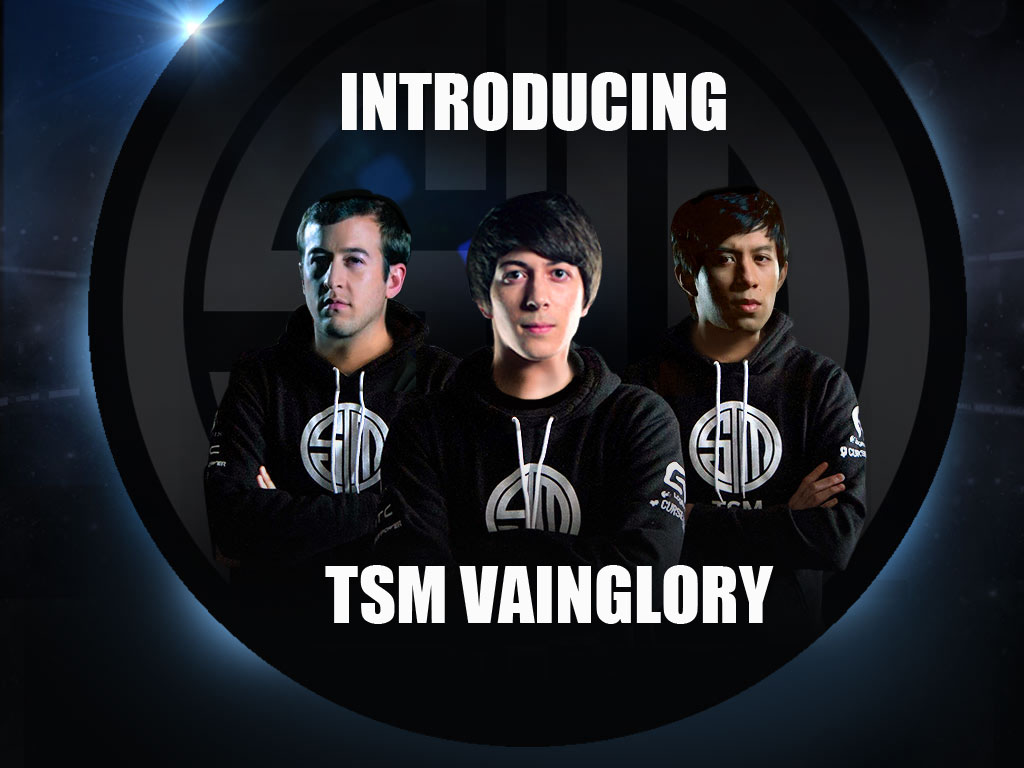 Team SoloMid has long been a prominent organization on the MOBA scene, and today the group announced it will enter into the burgeoning mobile MOBA competitive scene by acquiring top Vainglory team, Alliance.  The team are the current world champions, and the number one seed going into the North America Winter Live Championship.  TSM joins Team Secret, G2 eSports and SK Gaming as veteran eSports organizations who recently entered the Vainglory competitive landscape.
"As a global leader in eSports, we are always looking to expand our reach and attract new fans," said Andy "Reginald" Dinh, CEO of TSM. "The mobile games community has grown extraordinarily quickly in the past few years, and Vainglory has exploded onto the eSports circuit over the past six months; it will be exciting to see it reach its huge growth potential given the amount of devices on the market."- TSM press release 3/10/2016
The new TSM Vainglory team members-
Jungle/Lane: Nick "CullTheMeek" Verolla
Jungle/Lane: Mico "MICSHE" Dedicatoria
Roam: Michael 'FlashX' Valore
FlashX and MICSHE began their competitive careers in auspicious fashion at the ESL Vainglory Cup Series in May of 2015 as part of Alliance.  They won the Autumn North American VGL Qualifier last year, making it to the VIPL (Vainglory International Premier League) Season 2 and winning that competition as well.  CullTheMeek is a World Champion Vainglory player, having been recruited from the championship team GankStars Sirius.
Released in 2014 and available on iOS and Android platforms, Vainglory is a 3-on-3 multiplayer online battle arena.  The game's format will be familiar to those who play League of Legends or DOTA 2:  two opposing teams of heroes work to destroy a base and control lanes with minions and gather resources.  The difference? Developer/publisher Super Evil Megacorp created smaller team numbers and touch screen controls to allow for challenging yet engaging mobile MOBA that can be played competitively online.
The North American Vainglory Winter Live Championships take place at the Red Bull eSports Studio in Santa Monica, California March 11th-13th.  Eight teams will compete for a share of the $25,000 prize pool.  The Europe Winter Live Championships will take place at the Gfinity Arena in London from March 18th-20th.
Read Red Bull eSports' Vainglory Winter Live Championships Preview
Follow eSports Source on Twitter for entertainment and updates!