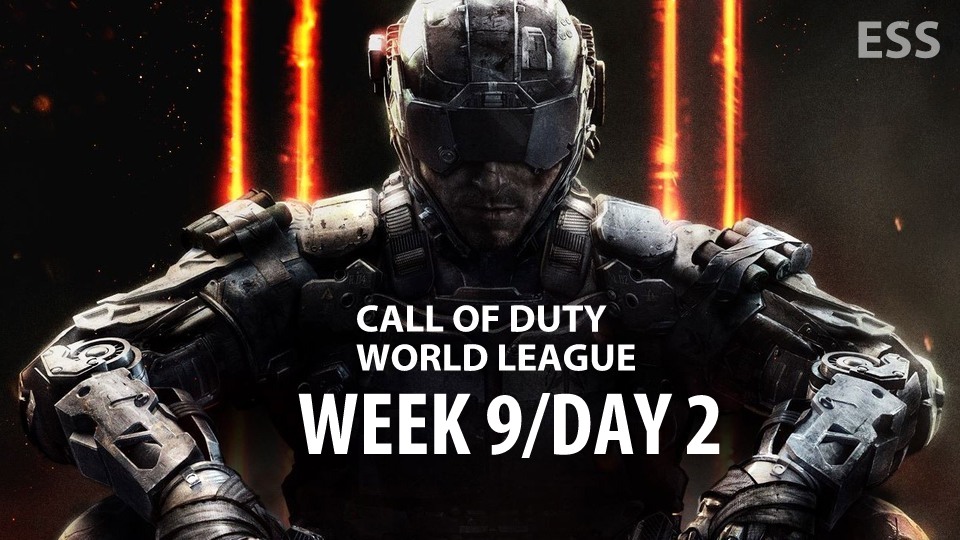 This is the final week for the European league (ANZ ended Week 8), and the North American region has two more weeks of matches to go.
The stage 1 relegations to determine which Challenger (non-league) teams will join the league for Season 2 begins on March 12th for the ANZ region, March 19th for the EU region, and March 26th for the NA region.  The first part of relegation is an online qualifier for the 16 amateur teams with the most Call of Duty World League points (as determined in online and LAN events leading up to the relegations, including a final event this coming weekend).  The top four Challenger teams will face the bottom four Pro teams to fight for league spots in a LAN tournament in their region (ANZ is March 19th, EU is March 25th, and NA is April 1st).
Click here for Challenge tournament information.
Click here for more information about Stage 1 Relegations.
What We Learned
Some men just want to watch the world burn.  Today Giants Gaming was forced to forfeit their final match against Splyce due to an unusually large DDoS attack.  The team was playing in a cyber cafe to help with their connection, and yet they were still knocked offline.  In a statement, the team says it has received word that the attack was a professional hit.  These matches are posted on the major international gambling sites, so it may not be a far reach to believe the attack may have been financially motivated.
TCM Gaming needed both Giants to lose and Vitality to lose their game against Team Infused in order to make it to the playoffs.  Vitality lost 3-1, and as a result of Giants Gaming's forfeit, TCM Gaming takes the final spot in the EU Season 1 playoffs.
Statement from Giants Gaming (translated from Spanish):
Tonight our participant in the European division of the Call of Duty World League team has been forced to withdraw from the match against Splyce that determined whether accedíamos the playoffs or were fighting for staying in the phase of relegations.Since Monday of last week, our players along with Ivan "GAMER" Lalov, on loan from Baskonia, were training at the facilities of Elite Madrid, who selflessly us gave way to cope as best as possible these two crucial for us weeks.

The reason for our disqualification in the party has been none other than the  massive denial-of-service attack suffered by the center (DDoS),  which has prevented our team to play when the situation in the first map was favorable to us. The regulation stipulates that players are responsible for their connection problems, and that in case of not being able to reinstate one or more players to the game, this should be given up for lost.  Our club understands, respects and supports the regulation and decision the organization . However, from Elite Madrid we have been informed that the attack received is not "common" but that the damage caused in the already safe, center network could only be caused by a skilled professional, not the archetype common attacker whose knowledge and resources are often poor and amateurish. Since then the club DIRECTORATE is in permanent contact with ESL and Activision to inform them of progress in our research, which have shown us their support and solidarity at this time so complicated.

Since the club will not hesitate to take legal measures to punish or those responsible for this violation of our rights once the investigation provide us sufficient evidence for it.

To our fans we ask the utmost respect, support and understanding for our players and coaching staff, which now have been shattered their dreams of achieving a major feat in the Call of Duty international. However, our team know and you know that this is not going to stop in their aspirations."
Meanwhile, here is the final EU League table: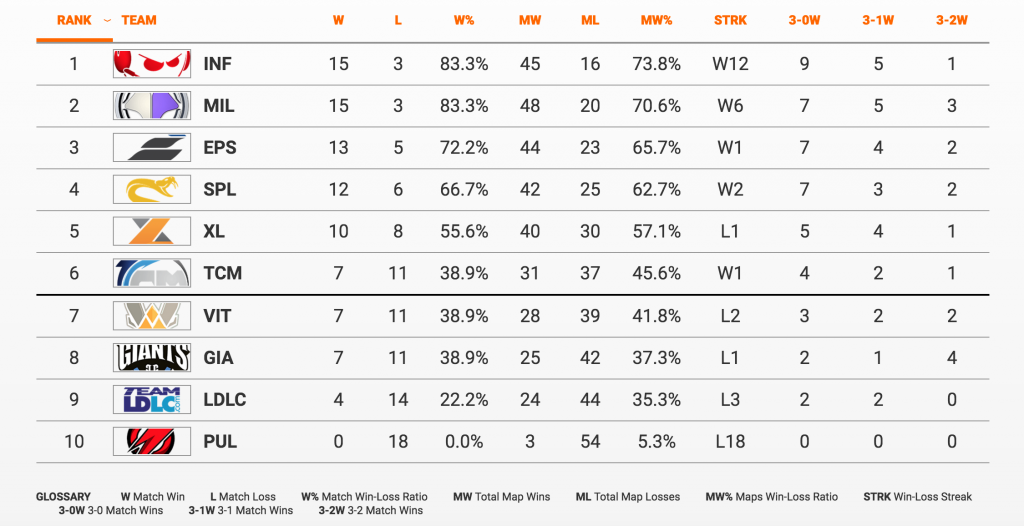 Scores from All Regions
EU Region
TCM Gaming 3-0 exceL
Millenium 3-0 Team LDLC
Infused 3-1 Vitality
Epsilon 3-1 PuLse Gaming
Splyce 3-0 Giants Gaming (forfeit)
NA Region
LG 3-0 CLG
dT 2-3 eLevate
FaZe Clan 3-1 CompLexity
H2K 0-3 OpTic Gaming
Team EnVyUs 2-3 Rise Nation
Team SoloMid 1-3 Team Kaliber