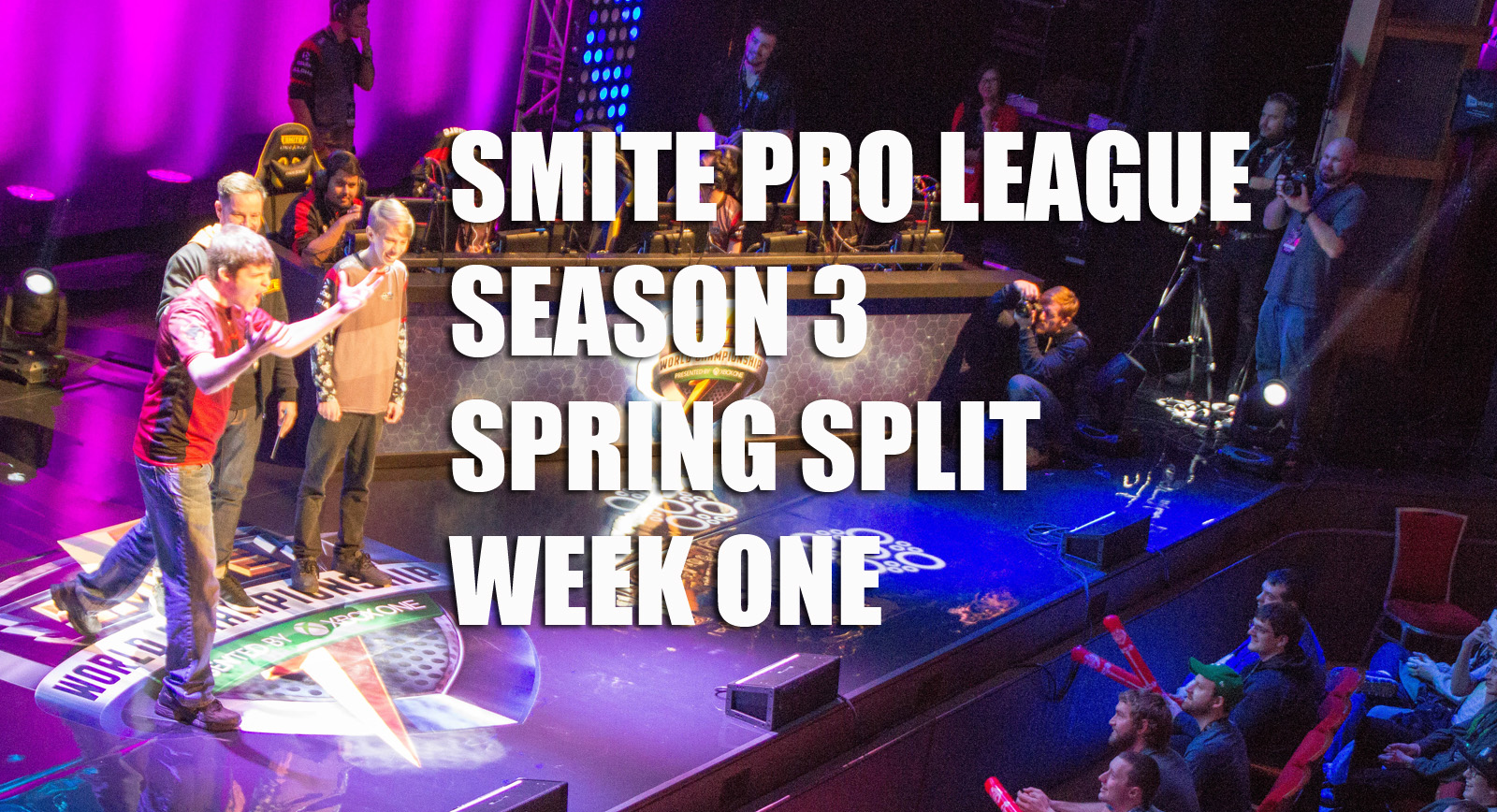 March 27, 2016
Despite making a last minute change from Weak3n to Mask in jungle, Team EnVyUs still looked like a strong side heading into their North American Spring Split match against Team Eager.  The team looked strong, but few could have predicted their domination of a very good Eager team in both of the day's games.
This video says it all:
.@EnVy_Cyclone shuts down @EgrWorld at the end of Game 2 with a Pentakill! #SPL https://t.co/P0AnCGr9yN

— SmitePro (@SmitePro) March 27, 2016
March 26, 2016
iRaffer and the team of Panthera looked very strong against Torpedo Gaming on Friday, and today, they looked to continue to dominate against Leftovers in their match.  Leftovers dropped the first game, but early in the second match they didn't look intimidated by the reigning World Champions and kept up well with Panthera.
Panthera's early game team fights made the difference in both matches, and small mistakes by Leftovers gave Panthera the opening they needed to take objectives.  By the half hour mark in the second game, Panthera looked downright comfortable and in control.  Leftovers continued to try to harry the team by engaging in team fights, but they made little difference in the end.  Panthera take the match handily, 2-0.
March 25, 2016
The day started with the lingering echoes of Rosterpocalypse, as Team EnVyUs announced their new jungler: Mask.  You may remember watching him play just yesterday for Denial, but he's now moved to the boys in blue, and Denial are looking for a jungler.  Denial also had another team change, as Macetodaface was having trouble finding school/gaming balance.  He is stepping away from competitive, and Xenotronics is now the new midlaner for Denial.  EnVyUS play their first game on Sunday March 27th.
As for play on Day 1 in Europe, 2016 SMITE World Champions Panthera (ex-Epsilon) played Torpedo Gaming and essentially picked up where Champs left off.  They looked strong, and the team to beat in Europe.  Meanwhile, there are some puns to be made about Hungry for More playing Leftovers, but we'll leave those to the casters.  The match itself featured a team of veterans (HFM) against a team made up of mostly fresh faces.  The league rookies took the series this time, managing to outlast the vets through a 65 minute first game, and closing out the second in relatively fast fashion at 25 minutes.
The show match of the day of European matches was Fnatic versus Dignitas.  Both teams looked a bit timid, perhaps suffering from first time league play jitters, but seemed to settle in as the first game progressed.  Dignitas drew first blood with their game 1 win, but Fnatic came back in the second game to split the series at a game apiece.
March 24, 2016
What a way to start the Spring Split in the SMITE Pro League!  A major upset means the NA favorites stutter step on journey to the top, while the team few had faith in revels in their triumph. Despite the high drama, Day 1 was a chance for teams to shake off some rust, and also shake off pesky opponents in Season 3's first Pro level matches.
The biggest surprise from Day 1?  Luminosity Gaming.  The team made up of three World Champions struggled against PaindeViande and his Enemy squad of largely unknown players.  After the match, Snoopy tweeted this:
Obviously could have played better. Was tilted off of game 1. There was some stuff going on at the beginning that we had no control over…

— Snoopy (@SnoopyMang) March 25, 2016
While Andi summed it up more succinctly:
clown fiesta.

— Andrew Woodward (@andinsterX) March 25, 2016
The LG vs NME match likely caused some frustrations in the second best of two match, as the game went on for an interminable 76 minutes.
---
WEEK 1 SCORES (NORTH AMERICA)
Team Eager 2 – 0 Team Allegiance
Team EnVyUs 2 – 0 Team Eager
WEEK 1 SCORES (EUROPE)
Leftovers 2 – 0 Hungry for More
Pathera 2 – 0 Leftovers
Fnatic 0 – 2 Paradigm
Follow eSports Source on Twitter!