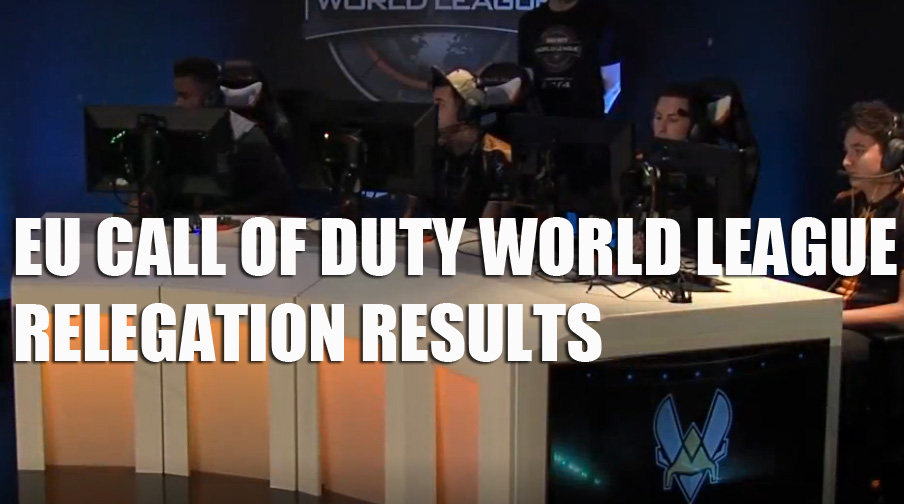 8 teams competed for 4 open spots in Europe's Call of Duty World League this weekend.  The teams ranged from UK veterans like Exertus, to online favorites in Rampage Tempo, and the massive central European fan favorites known as fabE.
We've watched poor old PuLse get knocked down repeatedly in Stage 1 of the Call of Duty World League, and on LAN the team didn't fare much better.  They did win a map off of Exertus Esports (a feat they did not achieve in the whole of Stage 1 online), but the French team were sent packing with a 4-1 defeat.
The second match was a barn burner between two teams that could arguably hold their own in the Call of Duty World League- Team LDLC and Rampage Tempo.  Tempo are a squad of veteran PS4 players who were part of the competitive community on that console before the partnership between Sony and Activision meant the competitive scene was to switch from XBox One to Playstation consoles.  Tempo gained a following online thanks to placing well in online Challenger Division tournaments, and their compelling "hard work finishes first" tale.
Team LDLC came from behind to win the first Hardpoint map, but Rampage Tempo answered with solid Search and Destroy plays.  The uplink map went to overtime after a clutch last second play by Skrapz:
OVERTIME! With the clutch one point score @skrapzg pushes Uplink into overtime #CODWorldLeague https://t.co/AMuaCkPD8R

— ESL Call of Duty (@ESLCoD) March 25, 2016
Rampage Tempo went on to win the uplink with 2 points in OT.  Team LDLC answered back with a 2-0 CTF win, and another Search and Destroy round win.  Rampage Tempo kept themselves alive by taking the second Hardpoint map and forcing a Game 7, but the veterans on Team LDLC knew how to handle themselves when it all came down to the wire.  LDLC won the final Search and Destroy map 6-1, and they will stay in the Call of Duty World League for the next stage.
The third match was a loud one- popular Youtube creators and competitors fabE were on home soil in Germany for this LAN, and their fans came out in the hopes of seeing the players qualify.  Spanish team Giants Gaming had little trouble dispatching the German side, only dropping the CTF map 0-2.  Giants were a bit of a surprise when it came to relegation, as they had looked fairly strong throughout Stage 1, but lost some close matches.  With the 4-1 win, Giants have a chance to place better in Stage 2.
The final match is an all French affair featuring Team Vitality and Supremacy.  Vitality looked the better team from the start, comfortably taking the Hardpoint and Search and Destroy.  Supremacy began to play with more confidence on the second respawn map, taking Uplink 17-10.  The challenger team then surprised the veterans with a Capture the flag win, bringing the match to two-all.  A close Search and Destroy map followed, featuring a massive mistake by Supremacy's Vortex as he failed to plant the bomb and ran out of time.
NotLikeThis #CODWorldLeague https://t.co/TCDeqoLHa9

— ESL Call of Duty (@ESLCoD) March 25, 2016

The final round was delayed by an hour due to technical issues after a Supremacy player's HC-XD got stuck in a wall and crashed the game.  Supremacy managed to bring the game back to 5-5 after the restart, and eventually clutched up in Round 11 to win the map and take the 3-2 lead.  Vitality fired back by taking the second hardpoint map to level the games to 3 all.  Search and Destroy can decide champions, and in this case, it decided who made it to the League.  This time, it was the veterans of Vitality who managed to clutch up and win the map, meaning they keep their spot in the Call of Duty World League.
Teams in the CWL:
Exertus
Team LDLC
Giants Gaming
Team Vitality
SCORES:
PuLse Gaming 1 – 4 Exertus Esports
Team LDLC 4 – 3 Rampage Tempo
Giants Gaming 4 – 1 Fab Esports
Team Vitality 4 – 3 Supremacy
Follow @eSports_Source on Twitter!