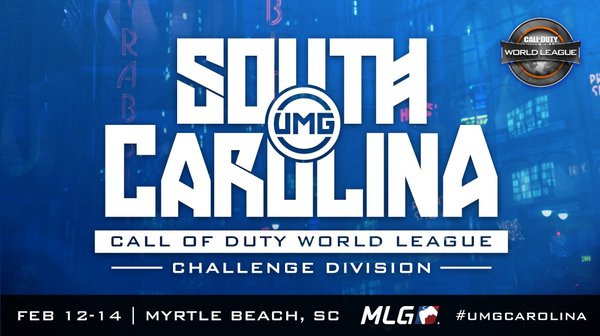 UMG Carolina is the first confirmed CoD World League Challenger LAN event.  The points earned by Open Bracket teams at this event will be used in qualification for the Call of Duty World Championships in the Fall of 2016.
It all begins Friday, February 12th and runs until Sunday, February 14th.
Matches will be streamed on Twitch at http://twitch.tv/callofduty.
CWL Champion Tournament:
This event begins on Saturday, after the Open Bracket has completed.  16 teams will compete in a single elimination, best of 7 format.
Key Early Matches:
Round One:
The single elimination format means the teams will be fighting for their lives in every match.  We could see some upsets in Round One, but it's hard to imagine EnVy or OpTic losing to an Open Bracket squad.  coL and Rise will be playing the Top 2 OB teams, and those could be the fired up Cloud9 team, or Team Liquid, both of which have top pro players who just missed qualification for the Call of Duty World League last year.
Luminosity Gaming v Team Kaliber– While tK's online league record is less than stellar (7-3), the team of CoD veterans is known to show up at LAN events and play at a consistently high level.  Luminosity's record is also nothing to write home about, but this is another veteran team with excellent performers.  Expect this match to go the distance.
ESS Prediction: tK wins, 3-2.
Another early round match is TSM v H2K.  H2k are a solid squad, and if Lacefield and Phizzurp play at their best, they could go far in this single elimination tournament.  TSM run very hot and very very cold.  If Colechan and Proofy stay consistent, the team could move on to the second round.
ESS Prediction: TSM wins, 3-1. 
Round Two:
We could see a grudge match in FaZe versus compLexity as early as round two.  These two giants of the game recently had disagreements online when FaZe was forfeited after their match against coL when team captain Clayster was deemed to have used an illegal spot (game glitch exploit) to get key kills during a round of Search and Destroy.  FaZe has been looking a little deflated and out of sorts online, but as often with his teams- if Clay's head is in the right place, he will go off and make the difference for his team.  An early round upset would make these points moot, but it's a tasty matchup nonetheless.
ESS Prediction: FaZe wins 3-0.
Champion Bracket: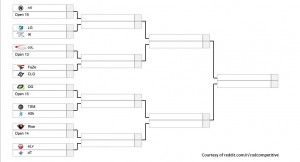 CWL Champion Bracket Prizes:
1st – $28,000
2nd – $14,000
3rd – $7,000
4th – $7,000
5th – $3,500
6th – $3,500
7th – $3,500
8th – $3,500
Here are the current CWL team rankings:
Team EnVyUs (8-2)
OpTic Gaming (8-2)
Rise Nation (7-3)
compLexity Gaming (7-3)
FaZe Clan (6-4)
Team eLevate (5-5)
Team SoloMid (5-5)
Luminosity Gaming (4-6)
Team Kaliber (3-7)
Open Bracket: Double elimination, separate tournament from the CWL team tournament.  The top 8 Open Bracket teams win cash prizes, and the top 4 teams will move on to compete in the CWL Champion Tournament.
Open Bracket Prize Pool Break Down:
1st – $12,000
2nd – $6,000
3rd – $4,500
4th – $3,000
5th – $1,800
6th – $1,200
7th – $900
8th – $600
Get tickets and team participation information at umggaming.com.  Follow @esports_source on Twitter for updates!