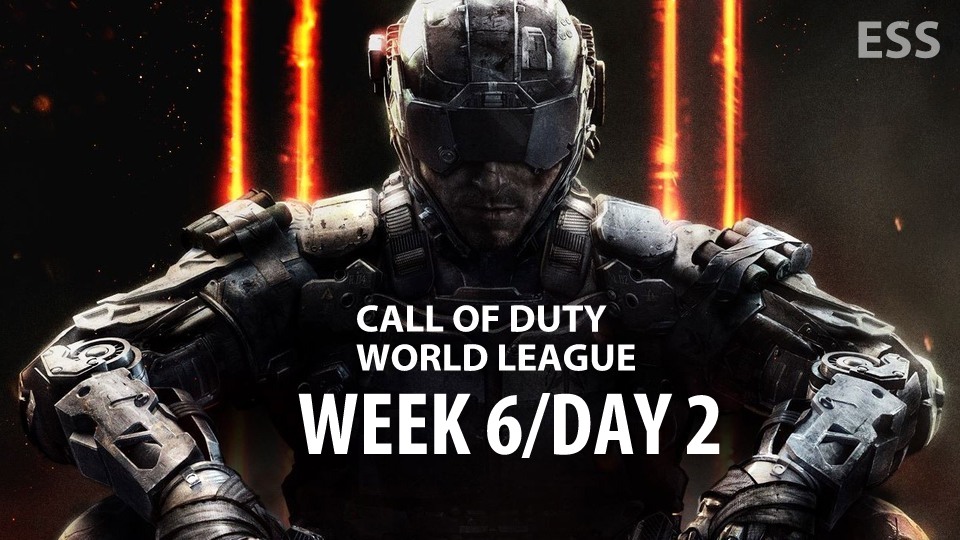 Reminder: North American CWL matches were postponed until today due to travel delays for teams returning home from this past weekend's UMG Carolina event.  Matches in the other regions have played as scheduled.
What We Learned
Old problems can become new again.  It appears that four of the six NA CWL matches were plagued with connection problems.  When MLG.tv still broadcasted the Call of Duty pro league matches during the 2015 Advanced Warfare seasons, one major problem for teams was DDoSing.   It was believed that people rooting for a particular team, people betting on teams, or people who simply didn't have anything better to do would work to hit pro players offline during league matches so they would be forced to replay maps, or in some cases- forfeit.  Eventually eSports Report became a pre-recorded show, with teams playing in secret beforehand to avoid booters.
Tonight, both OpTic Gaming and Team SoloMid were hoping to bounce back from disappointing finishes at UMG Carolina, but TSM's Colechan was repeatedly knocked offline.
I hate kids

"@MiKeY_409: @GoaTernaL they're playing OG, his Skype is coke.chan19 his ip is 24.30.31.— xD… And I'll fry that kid for u"

— ColeChan (@TSMColeChan) February 18, 2016
Unfortunately we had to forfeit our match against Optic in #CODWorldLeague because someone was DDOSing one of our players.

— Team SoloMid (@TeamSoloMid) February 18, 2016
With the forfeit, OpTic move to 9-2 in the league- though undoubtedly they would have preferred to play to improve their record.
Due to connection issues, TSM forfeited their match to us, really unfortunate circumstances. We play CLG tomorrow

— Matthew Piper (@OpTic_FormaL) February 18, 2016
When there's money involved, all bets on fair play are off.  Later in the night, it looked as if Team EnVyUs was also targeted- as a series of bad connections affected their play.  At one point they were playing 2v4 or 3v4 during Infection Search and Destroy and opting press on rather than give up the match. They continued to fight through the disconnections, but eventually fell to H2K with an 0-3 loss.
FaZe Clan has had a tough couple of weeks, going 1-4 in their last five matches and getting knocked out in their second match at UMG Carolina.  A win tonight against eLevate would restore some much needed confidence and help them snag more points in the league.  The DDoSers felt otherwise, as Zoomaa was targeted during the HP map.  After a short break, Zoomaa had to be replaced by FaZe sub Doug "Censor" Martin.  Censor worked hard on the Search map, but Attach was hit off when it was 3-3 and FaZe had to play 3v4 for the rest of the rounds.  On the next Uplink map, Aqua was hit offline, so eLevate had to play 3v4 themselves for a while.  On the CTF, all players remained in the game, but FaZe playing with a sub could not complete the comeback, and eLevate take the series 3-1.
Welp, played 3v4 two maps, played without Attach in our call for two maps, welcome to the DDoS show. See you for the 25k onlines LOL.

— FaZe Clayster (@Clayster) February 18, 2016
At the same time, Dream Team was held offline for a while during their match against CLG.  They had to repeatedly play the CTF map due to members from each team being taken offline.
Last year, it was suspected that the introduction of online betting on competitive CoD would lead to people fixing the matches in their favor.  EU sites offer odds on CWL matches this year, and now the booters appear to have have come for players again.
Will we be going back to pre-recorded matches?  Will tonight's matches be replayed?  That's all up to the Activision higher ups in charge.
Have kids tweeting us about holding us offline for the bets they placed on the match and how much money they made off it. Nice!

— Patrick Price (@ACHES) February 18, 2016
No one is infallible.  OrbitGG learned that this week in the CWL, as they lost three matches in a row.  The team looked unstoppable for weeks, keeping a clean record until week 5.   They now are in third place with a 7-3 record.
Scores (ANZ and EU regions)
ANZ Region
Nv 0-3 Chiefs eSports Club
Exile5 0-3 Tainted Minds
Apotheon Esports 3-2 Team Immunity
OrbitGG 0-3 Mindfreak
EU Region
Splyce 3-1 TCM Gaming
Giants Gaming 0-3 Team Infused
Team Vitality 3-2 Millenium
Team LDLC 0-3 Epsilon eSports
exceL eSports 3-0 PuLse Gaming
NA Region
Rise Nation 3-0 compLexity Gaming
Luminosity Gaming 3-2 Team Kaliber
OpTic Gaming 3-0 (forfeit) Team SoloMid
Dream Team 1-3 Counter Logic Gaming
Team EnVyUs 0-3 H2K
FaZe Clan 1-3 Team eLevate