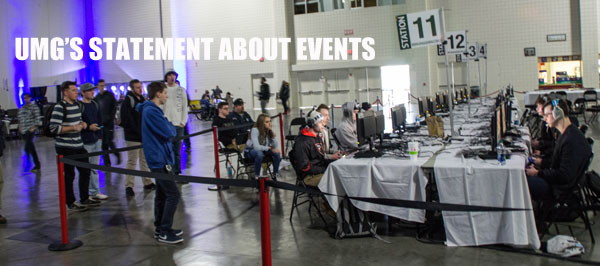 UPDATE: At 5:00 EST, UMG updated their statement to specifically address problems and eliminated mentions of Activision and Sony.
NEW statement:
This weekend we had the incredible opportunity to kick off the Call of Duty World League Challenge Division in Myrtle Beach, South Carolina. Sometimes being the first means discovering unexpected hurdles first. The event at Myrtle Beach, while it ended on a high note, didn't meet the overall standards that the community expects from us and we hold ourselves to. The technical challenges that we experienced during the event were beyond our control, but at the end of the day it was our name on the event and we take that seriously. 

Moving forward, we will be working diligently with our partners to resolve certain issues that may have affected this past weekend's event, so that future LAN events do not face the same challenges.
OLD statement:  It's not quite the apology some fans wanted for last weekend's UMG Carolina event that was riddled with problems, some avoidable, some unforeseen- but today UMG issued a statement on their website:
Moving forward we will be working diligently along side Activision and Sony to resolve to the best of all our abilities certain issues that may have affected this past weekend's event.  We appreciate your feedback and continued support.

We are looking forward to hosting this weekend's $25,000 Online Tournament which will be hosted on our website UMGGaming.com.

More details about this tournament will be released soon.
---
Follow @eSports_Source on Twitter for more updates!
---
Now some editorial feedback from attendee @mostlybiscuit:
The nod to Sony is likely in reference to the Playstation controller interference issues that plagued the tournament from start to finish, but what about the schedule that forced pro teams to only play for one day in a single elimination format?
Where was the a second stream for one of the side stations?
Where was a contingency plan in place for the broadcast if delays occurred?
Where was the pre-produced programming to show during the long breaks?
Why was the venue mostly bare and only featured three vendors, JerkyXP, G-Fuel, and Scuf, when there could have been an Activision booth, a Sony booth, and booths for any number of other gaming vendors?
Why did Activision get involved with this event, but seemingly didn't offer any support to the event planners or send any of their people along to represent the company at the first LAN of the year?
Why didn't teams sell their apparel anywhere?
No swag bags for ticket holders or even VIPs?
Why not have other food options onsite?
Why hold an event in a location where there is nothing else to do because it is 31 degrees outside and you are in an off-season seaside town?
Not all of these are UMG's problems– but they do show a lack of sophistication in Call of Duty live event planning that is just the norm for this particular eSport.  Other major events make attendance "fun and entertaining" for people who aren't playing and aren't there to hang out with their online friends. This felt like a  "you should be happy that you're getting anything at all" experience.
I can't imagine an outside investor attending an event like this one while watching kids scream at each other across what appeared to be a large folding table in a concrete room, and saying,
"Oh man, I want to pour money into THIS."
The competitive Call of Duty community should aspire to do more to make these events better, and addressing some of the above concerns could be a nice first step.