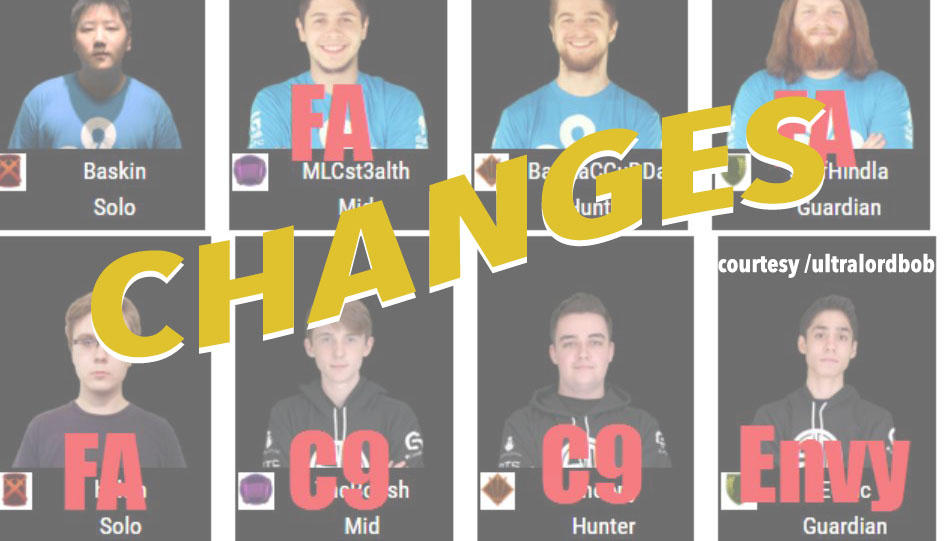 'Tis the season of Rosterpocalypse in Pro SMITE, and no team is safe from the shuffle, confusion, and heartbreak.  Here's a quick summary of some of the major storylines in the North American SMITE scene:
Biggest moves: Cloud9 releasing JeffHindla and MLCSt3alth.  C9 has won the hearts of North American fans and rival competitors for the past two years with their 2015 SMITE World Championship team.  They were the team that seemingly had everything fans and sponsors could want: talent, charm, skill, and a massive beard to boot.  However, behind the scenes, things aren't always as rosy as they seem.
In a video posted earlier this week, JeffHindla announced he would be replaced on the squad, thus breaking up the "SexTank" duo of Hindla and BaRRaCCuDDa and leaving him floundering to find a team for Season Three.   He cited the lack of a dedicated shot caller on the team and his own inability to fill that role as a reason for his departure.  On Reddit, Barra called Jeff, "the best teammate in and out of the game", and expressed sadness over the team change.
A short time later, Stealth confirmed his release via YouTube video as well.  Both men were emotional in their videos, and wished their former teammates well.  The fans responded in turn by flooding their Twitch chats with support.
The new C9 squad? Andinster, Baskin, BaRRaCCuDDa,  Snoopy, and Boosh.
Biggest Fan Reaction:  Incon dropped from EnVy, the fans subscribe to his Twitch in droves.
Another support player who was replaced on his longtime team is fan-favorite Incon, who didn't play with his EnVy teammates when they made the switch to XBox One for SMITE World Championships.  Some drama with this move, as Incon initially announced he would be dropped but kept on the team as a coach.  Following his video about the change, his teammates then decided to drop him completely, and he declared himself a free agent.
The Twitter and Reddit outrage was overwhelming, and fans flocked to Incon's Twitch channel to subscribe to him to show their love.
Team EnVyUs roster for Season 3? Allied, CycloneSpin, Kikisocheeky, Weak3n, and Omega.
Incon's new team? Flex. It consists of Mattypocket, DaretoCare, Lassiz, Oceans, and Incon. 
For a full list of North American roster swaps, free agents, and new teams, visit SMITE's eSportsapedia's page.
From r/Smite: