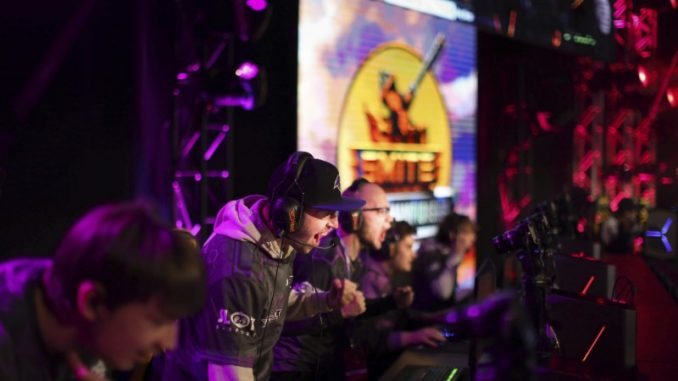 Premier gaming lifestyle festival 
DreamHack
 returns to
Atlanta
for three days 
Friday, November 16 – Sunday, November 18, 2018
, at the Georgia World Congress Center. The 24 hour-a-day festival weekend features all things gaming under one roof and will be jam-packed with nearly $2 million in pro esports tournaments, collegiate matches, world famous LAN party, music concerts, cosplay championship, panels, art, activities, expo and more; sponsored by Monster & H4x.
DreamHack made its Atlanta debut in 2017 bringing nearly 25,000 visitors from a total of 48 states and 25 countries. Following the Austin festival in June, DreamHack's only other U.S. stop of the year will be Atlanta in November.
"We're thrilled to bring DreamHack back to the great city of Atlanta," said DreamHack CEO Marcus Lindmark. "Featuring all things gaming under one roof, this year's festival is bigger and better than ever. From the Hi-Rez Expo to the 24-hour LAN party, professional esports, live EDM and Hip Hop music, and the celebrity-hosted Cosplay Championship — the DreamHack experience is unlike anything else."
DreamHack is a gaming lifestyle festival where communities from all walks of gaming life come together for a three-day weekend celebrating digital culture IRL. DreamHack Atlanta features a 24-hour-a-day LAN party, esports gaming competitions, university matches, stream studio, console, PC and arcade games, tabletop games, expo, Cosplay Championship, art gallery, indie game zone, main stage with live music, panel discussions, workshops and keynote speakers, and a host of other activities. Gamers can participate or watch professionals compete in esports tournaments with hundreds of thousands of prize dollars on the line.
Esports Tournaments
Major titles will include: over $1 million SMITE World Championship (including PC & Console) and over $300,000 Paladins World Championship (including PC & Console), $300,000 Halo Championship Series Finals, $100,000 Counter-Strike: Global Offensive (CS:GO), $100,000 Brawlhalla World Championships, $33,000 Fighting Game Championships (FGC) with prizes spread across Super Smash Bros. Melee and Wii U, Street Fighter V: Arcade Edition, Dragon Ball FighterZ, Tekken 7, Soul Calibur 6 and more, $15,000 Hearthstone Grand Prix, and $10,000 Halo 3 tournaments.
Hi-Rez Expo
For the first time ever, Hi-Rez Expo will be at DreamHack, welcoming more fans than ever before to experience the SMITE and Paladins World Championships in person — with over $1 million dollar prizing for SMITE and over $300,000 prizing for Paladins on the line.
Halo Championship Series Finals
Teams will compete in Halo 5: Guardians 4v4 mode for $300,000 – the most for an open event in competitive Halo history! There will also be a $10,000 side competition for 2v2 Halo 3.
DreamHack Open Counter-Strike: Global Offensive
Now in its eighth year, the DreamHack Open CS:GO pro-am circuit includes Atlanta in this year's list of international stops, with $100,000 on the line. The event will consist of six direct invites issued to teams, based on merit, through ranking and results.
Community BYOC Tournaments Include:
Fortnite, League of Legends, Overwatch, PLAYERUNKNOWN'S BATTLEGROUNDS (PUBG), Rocket League, Rainbow Six Siege, CS:GO, SMITE, Paladins, and more.
Cosplay
DreamHack Atlanta's Cosplay Championship will reach a new level with celebrity head judge Yaya Han joining the team. The Cosplay Championship will take place on Saturday, November 17 at 7:00 p.m.
The Hi-Rez Expo at DreamHack Atlanta this year means more cosplay action than ever before, thanks to the arrival of the Hi-Rez Cosplay Contest. Attendees will bring Hi-Rez characters to life, taking center stage to compete for a prize pool of $15,000. Three lucky cosplayers from around the world will win an all expenses paid trip to Hi-Rez Expo by participating to the #COSPLAYTOHRX Video Contest — submissions will close October 5, and the contest will take place on Saturday, November 17 at 3:00 p.m.
DreamHack Selects 'Save the Children' as Global Charity Beneficiary
DreamHack is proud to be a supporter of global humanitarian organization Save the Children in 2018. Save the Children already had a presence in the Expo at DreamHack Austin and Summer, and will also be at DreamHack Atlanta and Winter, giving attendees an opportunity to learn more about the organization's work, including a virtual reality experience. During these events, charity streamers will work together in an effort to raise at least $100,000 as part of Save the Children's Stream Team: creators who game, stream or vlog to help save kids in need. DreamHack will also offer limited edition merchandise to support the cause.
Save the Children's End of Childhood Report is released every year to commemorate International Children's Day on June 1. The report takes a hard look at the events that rob children around the world of their childhoods and prevent them from reaching their full potential. The report also includes an index of 175 countries, ranking the best and worst places in the world for children to have a safe, secure and healthy childhood.
Save the Children believes every child deserves a future. In the U.S. and around the world, Save the Children gives children a healthy start in life, the opportunity to learn and protection from harm. They do whatever it takes for children — every day and in times of crisis — transforming their lives and the future we share.
Additional DreamHack Atlanta Highlights
LAN Party
DreamHack Atlanta offers pro and casual gamers the opportunity to bring their own gaming rigs, hook into a LAN socket powered by one of the world's fastest internet connections, and get their game on. Attendees have the option to play around the clock for three days straight, just for fun or to compete in BYOC tournaments where thousands in cash prizes are on the line.
BYOC Game Rows — Attendees can sit in a row of like-minded gamers to play games including: Counter-Strike: Global Offensive (CS:GO), Fortnite Battle Royale, Overwatch, Paladins, PLAYERUNKNOWN'S BATTLEGROUND (PUBG), SMITE, and World of Warcraft: Battle for Azeroth.
BYOC Tournaments — The perfect way to participate in your favorite game during the event. Game together with your friends or find a new team on site. $16,000 in prizes will be on the line in this year's BYOC tournaments and all entries are included with your BYOC ticket.
Collegiate Esports
The DreamHack 
AVGL
 Collegiate Series is hosting a nationwide, online qualifying league in October with grand finals held in Atlanta (details announced soon) — along with a collegiate Fortnite tournament, League of Legends grudge matches featuring regional rivals, and mobile esports grudge matches.
National Online League: A national online league will take place throughout the month of October with winners earning a trip to Atlanta for the grand finals at DreamHack.
League of Legends: College rivals from the Southeast will compete on stage in grudge matches pitting local college rivals against each other.
Fortnite Tournament: AVGL will host an exciting day-long tournament with local universities.
Mobile Esports Grudge Matches: The DreamHack main stage will feature AVGL-hosted mobile esports grudge matches pitting local colleges against each other.
All of these matches will be broadcast November 16-18 at 
twitch.tv/dreamhack
, on the following schedule:
Friday, November 16 (10am – 6pm EST): Collegiate Fortnite Tournament
Saturday, November 17 (10am – 6pm EST): National Tournament Grand Finals (details TBA), League of Legends Grudge Matches, Mobile Esports Grudge Matches
Sunday, November 18 (10am – 1pm EST): League of Legends Grudge Matches
Live Music
On 
Friday, November 16
, DreamHack will kick off live music with EDM sensations 
Slushii
, 
Kill the Noise
 and 
Riot
. Additional hip hop music performances will be announced.