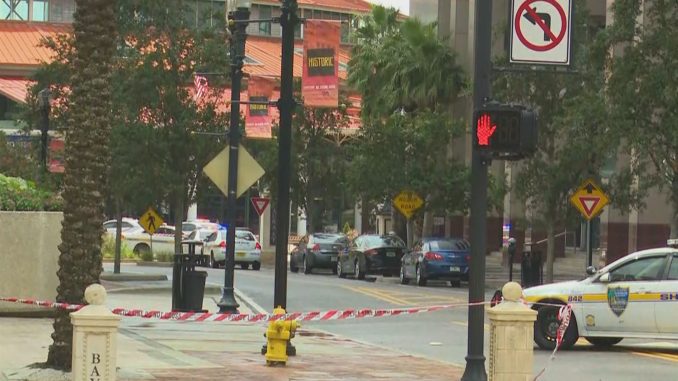 [Update 8/27/2018: Corrected number of victims and added names of deceased.]
According to the Jacksonville, Florida Sheriff's Office, one suspect is dead and there are "multiple fatalities" at the site of a Madden 19 tournament at the GLHF Game Bar.  Reports say at least 11 people were injured and two were killed in the shooting incident on Sunday, August 26th.
The two people who were killed were both pro Madden players, Elijah "trueboy" Clayton and Taylor "SpotMePlzzz" Robertson.
The #Titans community lost a beloved member over the weekend.

Our thoughts and prayers are with the family of Taylor Robertson (@spotmeplzzz).

Taylor was a husband, father and passionate Titans fan who represented us honorably each time he competed. #TitanUp ?? pic.twitter.com/BhRWxT9S8n

— Tennessee Titans (@Titans) August 27, 2018
(1/2) We are shocked and deeply saddened by the senseless violence in Jacksonville and the tragic deaths of Dot City Gaming team member, Taylor "SpotMePlzzz" Robertson, and Eli "Trueboy" Clayton.

— Dot City Gaming (@DotCityGaming) August 27, 2018
The shooting occurred at the Madden 19 Southeastern Qualifier Tournament, which had a $5,000 prize pool.  First and second place would qualify for Finals in October of 2018.
We are aware of an incident at a sanctioned Madden Championship Series competition in Jacksonville. We are working with authorities to gather facts at this stage.

— EA SPORTS Madden NFL (@EAMaddenNFL) August 26, 2018
This is a horrible situation, and our deepest sympathies go out to all involved.

— EA SPORTS Madden NFL (@EAMaddenNFL) August 26, 2018
Police have identified the gunman as David Katz, a 24-year-old gamer from Baltimore, Maryland. Katz took his own life during the shooting.
compLexity player Drini "YoungDrini" Gjoka was playing in the tournament and was reportedly shot in the hand.

I am literally so lucky. The bullet hit my thumb

— Drini Gjoka (@YoungDrini) August 26, 2018
I will never take anything for granted ever again. Life can be cut short in a second

— Drini Gjoka (@YoungDrini) August 26, 2018
Other players took to social media as they were escorted away from the scene:
I got out. Police escorted me. I'm done going to any Madden events not EA Majors with security.

— Noble SteveyJ (@ImSteveyJ) August 26, 2018
@oLARRY2K was shot in chest and hand I was with him. I have his bag and phone. Plz retweet this to notify 2k community. He is at Florida shands hospital. didn't look life threatening to me but injured bad. I love you bro

— BUCTILLIDIE (@BucTillIDie) August 26, 2018
Im good and safe. Not gonna report anything but a community that's filled with love, friends and family needs some prayer

— DUBBY (@DubDotDUBBY) August 26, 2018
The shooting tragedy has some tournament organizers addressing security concerns from the public on Twitter:
While Evo does not comment on security procedures (for obvious reasons), it's very clear that we need to be more proactive for 2019 and beyond. The amount of undercover law enforcement at Evo was unprecedented, and we will be installing metal detectors for ALL days next year.

— Joey Cuellar (@MrWiz) August 26, 2018
While other members of the gaming community are calling for stricter gun laws in the United States.
A very sad day for all of us as gamers and in the video game industry. Sending love and strength to those effected. I really hope enough people will stand up and demand we change our laws. The power of the gaming community I know can have tremendous impact. ???

— Aaron Greenberg (@aarongreenberg) August 26, 2018
Before I came to EG, I worked in politics fighting for common sense changes to gun laws in America. If you're 18+ in the US, then you have the power to impact your own safety at LANs, schools, theaters, malls, workplaces, and at home this fall.

VOTE

— Phillip Aram (@Phillip_Aram) August 26, 2018