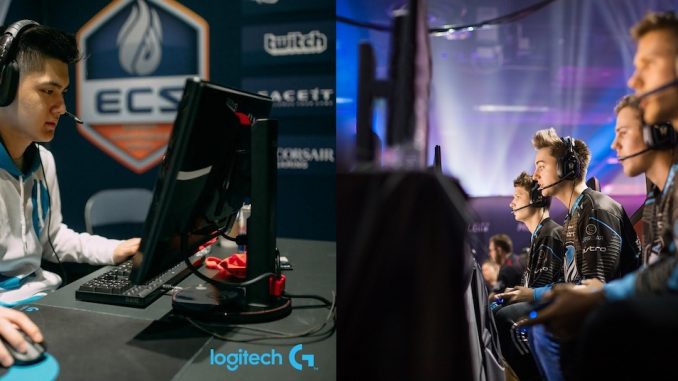 Logitech Acquires ASTRO Gaming
In a press release today, Logitech announced the electronics giant will buy Astro Gaming, a leader among esports-related peripherals like mixamps and headsets.  According to the release, Logitech plans to buy ASTRO for $85 million in cash, with the deal set to close in August of 2017.  With the acquisition, Logitech has branded itself as the 'number one maker of headsets, mice, keyboards and streaming webcams for PC and console gamers'.
  "…we love the team, the brand and the products. Together, we want to make game play even more fun for gamers everywhere."-Ujesh Desai, VP/GM, Logitech G. 
Many FPS favorites have been sponsored by ASTRO Gaming for years, with EnVyUs, OpTic Gaming and more joining their ranks at some point in the company's history.  The brand is well known for its A40 and A50 headsets, which have become a ubiquitous signal of "serious gaming" among players seeking to emulate entertainers and pros on YouTube.
For their part, with this acquisition, Logitech has bought themselves into what is currently a very lively niche sector of the electronic peripherals market: console esports.  In their report, Logitech says they expect the acquisition to add two points of growth to their top line in the first year.
---
Sub-Zero Joins Injustice 2
Today, it was announced that legendary Mortal Kombat character Sub-Zero is available to play in Injustice 2.  This version of the fan favorite fighter has an updated outfit but the same deadly moves.
Players who have the Injustice 2 Ultimate Edition, Injustice 2 Deluxe Edition, Injustice 2 Ultimate Pack or Fighter Pack #1 (Xbox Store only) will all get instant access.  Sub-Zero will also be available as a standalone purchase on July 18th in PlayStationStore and Xbox Store.
Developed by the award-winning NetherRealm Studios, Injustice™ 2 features a massive roster of DC Super Heroes and Super-Villains and allows players to build and power up the ultimate version of their favorite DC characters. The game is currently available for PlayStation®4 and Xbox One.
The game boasts a growing esports community.  Turner Broadcasting's ELEAGUE will broadcast an Injustice 2 tournament this fall.  The Injustice 2 Championship Series has also been going on since May of this year and will culminate in a World Championship in September.
---
Global StarCraft II League Season 3 Code S Begins
The third and final season of GSL Code S for 2017 kicked off last week, and five foreign players managed to qualify this time around.
Elazer and Scarlett played in the group stages last week, but failed to advance. Elazer had a rough draw as he had to play two series against last season's champion, Gumiho, who advanced in group A along with Rogue.
In group B, Scarlett failed to win a series as both INnoVation and Hurricane advanced past her and Ryung.
---
Overwatch World Cup Group Stages
The 2017 Overwatch World Cup Group Stage begins later this week, and teams from the 32 qualified nations will play in venues spread across four continents.  All of the players are fighting for the chance to be one of the final 8 teams at BlizzCon 2017 for the World Cup Finals.
The first Group Stage starts this Thursday, July 13th in Shanghai.  The matches will begin at 11pm PDT. On Saturday matches will begin at 9pm PDT.
The Shanghai Group Stage will see Groups A and B facing off: China, Hong Kong, Norway, Romania, France, Denmark, Thailand and Argentina.
Read Blizzard Overwatch World Cup Blog