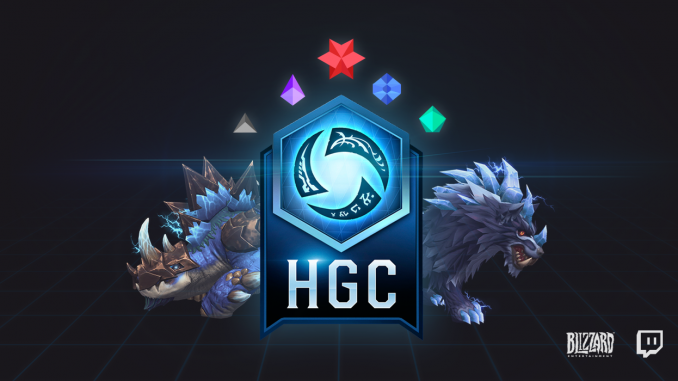 Twitch and HGC Partnership
Heroes of the Storm's esports league is working to drum up additional fan support by teaming up with streaming giant Twitch.  Fans watching Heroes Global Championship matches on Twitch can unlock in-game loot by cheering with bits in the channel chat during matches.
Fan will be able to express themselves in chat by buying Bits (Twitch's virtual currency) and then using them to cheer with unique emotes.  When fans cheer for their team, a portion of the revenue from the bits goes toward their team of choice.  The total number Bits for each team in 2017 HGC campaign will be tracked—unlocking benefits for all HGC Cheer participants along the way.
Fans can support any of the 32 teams in the HGC with their cheers on Twitch.  The program begins August 1st during the HGC Eastern and Western Clashes.
---
MotoGP eSport Championship
The inaugural, some say "first" major championship for the game MotoGP 17 is currently underway.  The championship is exclusive for Playstation 4 players.
If you missed entry for the first round, there are still five more online qualifiers to go.  The 16 players with the fastest times will be invited to the live final tournament in Valencia, Spain.
| | | | | |
| --- | --- | --- | --- | --- |
| Date | Circuit | Rider | Weather conditions | N° qualifiers |
| 7/27 – 08/06 | Jerez | Marquez | Dry | 2 |
| 08/10 – 08/20 | Austria | Pol Espargarò | Dry | 2 |
| 08/24 – 09/03 | Silverstone | Lowes | Wet | 3 |
| 09/07 – 09/17 | Misano | Lorenzo | Dry | 3 |
| 09/21 – 10/01 | Aragon | Rossi | Dry | 3 |
| 10/12 – 10/22 | Phillip Island | Iannone | Dry | 3 |
The first- and second-placed players of the first two races, a total of 4 players, will take part, as will the top three of the remaining four challenges, that is another 12 players.
The event will be live from the Valencia circuit in Spain, coinciding with the last race of the MotoGP, from 10th to 12th of November. The event will be broadcast live by Dorna Sports' television partners, with prizes that are the envy of many: the first-placed player will take home a BMW M240i, second place wins a KTM RC 390, and third place wins a Smart TV.
---
Gfinity Acquires CEVO, Broadcasts on BBC3
Gfinity has announced the acquisition of American tech company CEVO for $2.7 million in cash and shares.  Both CEVO and Gfinity have been tournament sponsors and organizers for years, and the combination of the two gives Gfinity a key place in the North American esports market.
CEVO developed tournament management systems and anti-cheat software that has been used at esports events in the past.
Gfinity is also in the news this week, as BBC3 begins coverage of Gfinity tournaments for the next six weeks as part of a new programming block.  The broadcasting giant will stream Gfinity's Elite Series tournaments as part of the short-term partnership.
Street Fighter V will be on Fridays, Counter-Strike: Global Offensive on Saturdays and Rocket League on Sundays.  BB3 is an online-only channel, similar to Twitch in the audience it seeks and attracts.
---
World Esports Games and Leagues (WEGL) 
Gaming company ActozSoft and its subsidiary Eyedentity Entertainment have created WEGL in an attempt to enter the Korean esports market and then expand to China and the Asia-Pacific region.
The company/organization created the show "Game Star" which is essentially an "X-Factor" but for esports, and "Super Fight" which shows highlights from fan-favorite players during matches.