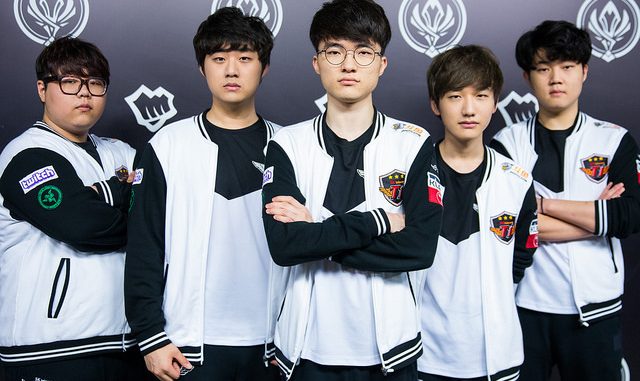 World Champs overwhelm Wolves in just three matches.
by Kim Newsome, EIC
SK Telecom 1 swept aside LMS winners Flash Wolves in their best of five semifinals match on Friday.  The defending World Champions will now face the winner of Team World Elite and G2 Esports in the 2017 Mid-Season Invitational Finals on Sunday.
SKT came into the match with a first seed off of an 8-2 run through the group stage.  Flash Wolves gave the Korean powerhouse squad one of those two losses, and have also beaten the team on three other occasions in international competitions.  If any team was primed to bounce the World Champions from the tournament in the semis, it was Flash Wolves.
Game One
SKT came out with aggression, taking advantage of a weak bottom lane from Flash Wolves.  Bae "Bang" Jun-sik trapped an overextended Lu "Betty" Yu-Hung and got the first blood, but Flash Wolves responded immediately with a kill of their own.  After some objective trades, SKT gave Flash Wolves the opening they needed when Bang was caught out of position by Betty and the Wolves picked up the kill and gold leads.
BANG! First blood to SKT!

SKT and Flash Wolves are facing off in the #MSI2017 semifinals now!
https://t.co/LEuUiZIMfC pic.twitter.com/ZGb6no1bhu

— Twitch Esports (@TwitchEsports) May 19, 2017
18 minutes into the match, Flash Wolves continued their methodical dismantling of SKT, taking the Infernal Drake and later forcing a team fight that eventually gave them a 5 – 1 lead.
.@JunSikJjang123 gets hit by the Ashe arrow, and @flashwolves2013 are up 4-1 in kills! #MSI2017 pic.twitter.com/3b9xkMCVpc

— lolesports (@lolesports) May 19, 2017
Despite Flash Wolves' great plays, there's a reason why SKT are the current World Champions: they know how to play from behind.  At 25 minutes, Han "Peanut" Wang-ho managed to sneak an Ocean Drake, and in the resulting team fight, SKT came out on top despite powerful crowd control from Flash Wolves.  Bang racked up three kills and Heo "Huni" Seung-hoon took one for himself, evening up the kill count at 5-all.
.@sktelecom_t1 claw back into the game as they pick up 4 kills! #MSI2017 pic.twitter.com/uvklB2Xc5B

— lolesports (@lolesports) May 19, 2017
Ultimately, SKT's late game team composition let them close out the first match with ease in just 31 minutes.
Game Two
SKT get off to a hot start, picking up three kills in quick succession to take the lead within the first 10 minutes.  From there, the lead snowballed thanks to early solo lane advantages and Lee "Faker" Sang-hyeok's presence in mid.  SK Telecom 1 cruised to a quick 27 minute 9-2 victory.  SKT looked incredibly comfortable, and poised to shut out Flash Wolves with a hot 3-0.
Game Three
Wolves were determined not to go out quietly, and took some risks to take an early lead.  Hung "Karsa" Hau-Hsuan chose Ivern for the first time in a competitive match, and proceeded to hop into mid and help teammate Huang "Maple" Yi-Tang to a First Blood after just three minutes.
First Blood for Maple's Lucian in game 3! #MSI2017 pic.twitter.com/F3NUgybOOy

— lolesports (@lolesports) May 19, 2017
Karsa tried to be the hero again a few minutes later with another gank in bottom lane, but this time it all went pear shaped as he missed his abilities, got hit by the tower, and ultimately Bang took him out.  A minute later it was a shambles for Flash Wolves as Bang and Peanut outplayed Betty and Hu "SwordArt" Shou-Jie, picking up two kills.
After killing Karsa, Faker then rolled in after 11 minutes to do some Faker things, creating a team fight out of nowhere and taking out Maple to give his team a 5-1 lead.
#JustFakerThings at #MSI2017 pic.twitter.com/F46r6XXFHJ

— Twitch Esports (@TwitchEsports) May 19, 2017
From there, it was a was all SKT, as the World Champions showed why the hold that title and defeat Flash Wolves with an efficient and business-like 3-0.
@sktelecom_t1 @flashwolves2013 ? #MSI2017 pic.twitter.com/FoK7z1PvAE

— lolesports (@lolesports) May 19, 2017
Saturday, Team World Elite and G2 Esports will compete to see who will face the World Champions in the MSI Finals on Sunday.
Whoever makes it to the final series should know: SKT are ready.
See you at finals ?

— Wang Ho Han (@lolPeanut98) May 19, 2017
Photos/Video courtesy of Riot Games.