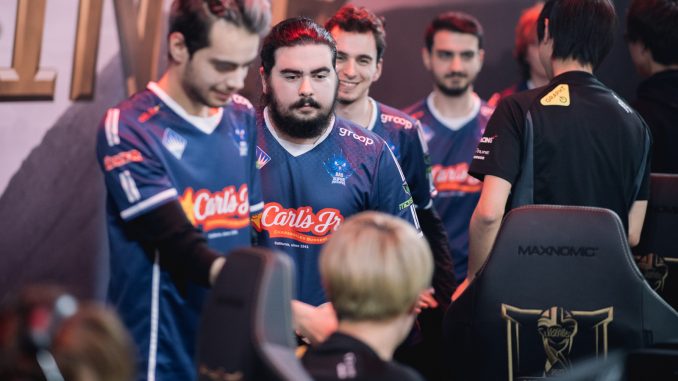 Team lives up to its name with big wins in the play-in stage
by Andrew Salazar, League of Legends Correspondent
BAU SuperMassive will advance to round two of the 2017 Mid-Season Invitational play-in stage, going 5 – 1 and topping the Group A table.  BAU SuperMassive will now attempt to qualify for the MSI group stage for the second year in a row, having reached that stage in 2016 after winning the Wild Card Invitational. The team will get another chance to prove themselves later this week after a random draw determines whether SuperMassive will face NA LCS champion Team Solomid or LMS champions Flash Wolves.
Group A Final Standings
| | |
| --- | --- |
| BAU SuperMassive (TUR) | 5-1 |
| RED Canids (BR) | 4-2 |
| LG Dire Wolves (OCE) | 2-4 |
| Rampage (JPN) | 1-5 |
Game One – Rampage vs. RED Canids
In the first game of the day, hometown heroes RED Canids showed why they were considered one of the favorites in this group.  Canid top-laner Leonardo "Robo" Souza was a menace on Fizz, diving deep for kills and proving too slippery for Rampage to lock down.  Robo's slick moves were thanks in part to an impressive performance by Hugo "Dioud" Padioleau's Thresh, who was effective on both offense and defense.  The Canids used a 12k gold lead and an easy Baron secure to march into the Rampage base for a win to keep their tournament hopes alive at 3-1.
.@REDCanids pick up 4 kills in mid lane! #MSI2017 pic.twitter.com/ANpC0Of6If

— lolesports (@lolesports) April 30, 2017
Game Two – LG Dire Wolves vs. BAU SuperMassive
The Dire Wolves looked ready to upset BAU SuperMassive after gaining a surprising a 2-1 kill lead and 2k gold advantage after just 17-minutes into the match, but the Wolves found themselves lost in the enemy's jungle, and SuperMassive was happy to find them.
SuperMassive rolled over the Wolves, picking up four kills and an easy Baron Nashor to take control of the game.  SuperMassive's Koray "Naru" Bıçak had been the recipient of most of the gold from those kills, and his Leblanc punished hapless Dire Wolves members.  After two successful team fights in the top and mid lanes, SuperMassive found their fourth win to remain in first place.
.@supmass pick up the pace in mid game as they get 4 more kills! #MSI2017 pic.twitter.com/Avw6CfPY2T

— lolesports (@lolesports) April 30, 2017

Game Three – Rampage vs. BAU SuperMassive
The teams were eager to get bloody early, with 10 kills between the teams 15-minutes into the game.  After SuperMassive was spotted attempting a precarious Dragon call, Rampage punished the squad with three kills.  Osamu "Ramune" Ozawa's Leblanc got a bit ahead of himself and went for an aggressive dive during a team fight – and it paid off for the wrong team.  After Ramune died, SuperMassive used their man advantage to take down the Rampage middle inhibitor.
Later, when Rampage's risky baron call was spotted, SuperMassive flattened their opponents inside the Baron pit.  With only one Rampage member left alive, SuperMassive easily destroyed the enemy nexus and took the victory.
Game Four – RED Canids vs LG Dire Wolves
With BAU SuperMassive undefeated in the group, the pressure was on RED Canids to win every game going forward.  Canids responded right from the start, jumping to a quick 4-0 kill lead 5 minutes into the game.  The winning spirit turned to recklessness as Canid team members began getting caught out of position and picked off by a patient Dire Wolves team.
Feeling confident with their 14-7 lead, the Wolves rotated to what seemed like an easy Baron call.  Canids jungler Carlos "Nappon" Rucker desperately jumped into the pit and miraculously secured the baron in the face of five Dire Wolves.
.@nappon_ steals the Baron for @REDCanids! #MSI2017 pic.twitter.com/Z86RuTbRpM

— lolesports (@lolesports) April 30, 2017
Taking advantage of the momentum shift, Canids tried to take down the Dire Wolves top lane inhibitor, but the Dire Wolves somehow managed to find an inside angle into the Baron Nashor pit.  All five members of Dire Wolves surged forward to defend the Baron against Nappon, and once again, Nappon would shock the Dire Wolves with a one-man Baron steal.
HE DOES IT AGAIN! Another Baron Steal for @nappon_! #MSI2017 pic.twitter.com/b0nK9TkjNG

— lolesports (@lolesports) April 30, 2017
Even with the ridiculous steal, there were still five Dire Wolves members near the pit, and they chased down Canid members one by one.  Finally securing a Baron Nashor, the Dire Wolves plowed in the Canid base and ended the Canid hopes of advancing to round two.
Game 5 – RED Canids vs BAU SuperMassive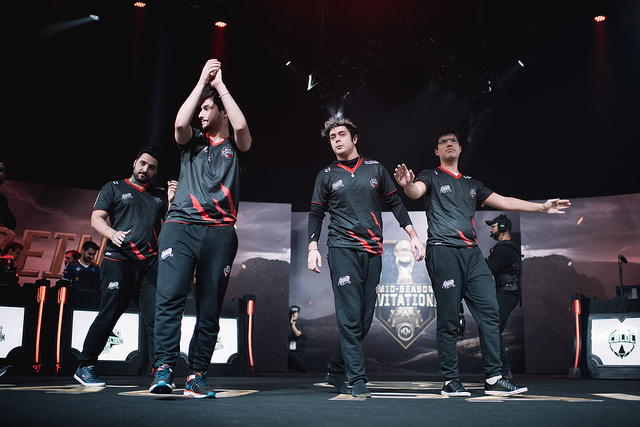 The group was now settled, and SuperMassive would be the lone team to advance from Group A.  But the Canids still had the Brazilian crowd chanting their names, so they would need to rally to play their last game for the hometown fans.
The Canids were dominant in most of the team fights in this game, earning a 16-11 kill lead by 20-minutes, including a 6-1 stat line by Felipe "brTT" Goncalves.  Now armed with a large gold lead, brTT would be unstoppable as he racked up 18 kills while shredding through the SuperMassive team.
Canids held their heads high and took the SuperMassive nexus to end their tournament run with a win.
Game Six – Rampage vs. LG Dire Wolves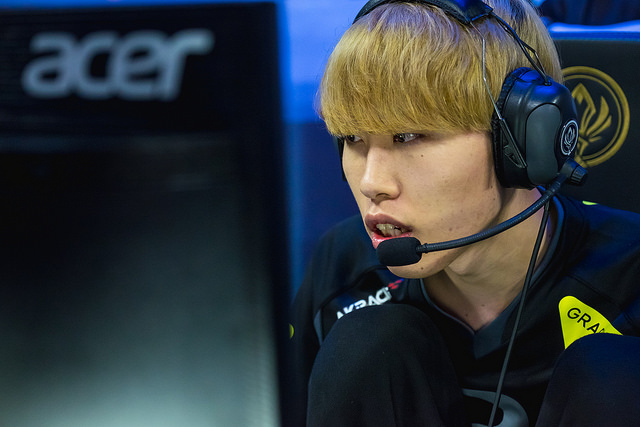 Neither Rampage nor the LG Dire Wolves would advance to round 2, but each team still hoped to end their MSI experience with a win.
Dire Wolves failed to capitalize on an early lead, and Rampage made them pay, eventually forcing a desperate Baron attempt out of the Australians.  The Wolves picked up the Baron, but at a price – handing the Rampage roster four kills in exchange.
The lead was too much for the Wolves to overcome, and Rampage redeemed themselves by notching their first win of the tournament.
With Group A in the books,  Group B will crown its winner Monday, with games starting at 3:00pm BRT.
Photos courtesy of Riot Games.