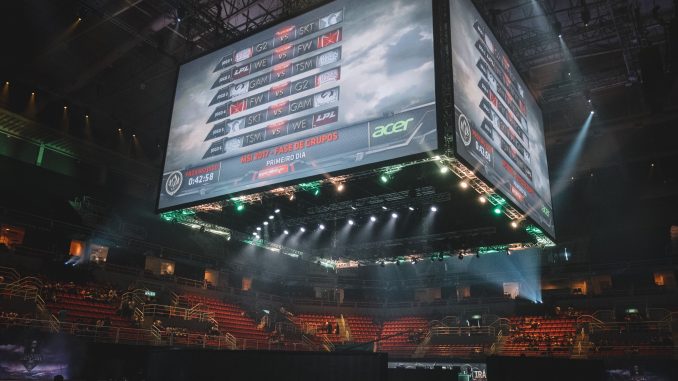 SK Telecom T1 are the only undefeated team in a close group.
by Andrew Salazar, League of Legends Correspondent
SK Telecom T1 continued their international dominance on day one of the 2017 Mid-Season Invitational, ending the day with wins over EU LCS champion G2 Esports and GPL champion GIGABYTE Marines.
LMS Champion Flash Wolves looked surprisingly flat on Wednesday, going winless on day one despite championship contender expectations.  With four days remaining in the groups, questions still remain as to which team will advance to the MSI knockout stage.
MSI Day One Standings
| | |
| --- | --- |
| SK Telecom T1 | 2-0 |
| G2 Esports | 1-1 |
| Team Solomid | 1-1 |
| World Elite | 1-1 |
| GIGABYTE Marines | 1-1 |
| Flash Wolves | 0-2 |
Game One – SK Telecom T1 vs. G2 Esports
G2 Esports started the day off with the daunting challenge of facing 2016 World Champions SKT Telecom T1.  G2 seemed unintimidated by the accolades of their opponent, finding kills in both the middle and bottom lanes to start the game and taking an early 4-0 lead.
SKT has built a dynasty on strategic play and often uses their superior teamwork to take down opponents.  The team used clever rotations to destroy turret after turret and take a 10k gold lead.  The lead made it nearly impossible for G2 to find an advantageous fight near epic objectives, allowing SKT to take both Elder Dragon and Baron Nashor without any opposition.
Now holding all the cards, SKT used the resulting buffs to roll through the G2 Esports base and start the day with a win.
Game Two – World Elite vs. Flash Wolves
Flash Wolves were rated highly coming into MSI, but tend to struggle against teams from the Chinese region.  Unfortunately for Wolves fans, that trend continued today against the LPL champion World Elite.
WE jungler Xiang "Condi" Ren-Jie set up camp in the top lane, creating two early ganks that gave teammate  Ke "957" Changyu a massive lead to start the game.  Thanks to the early advantage, 957 became an unstoppable highlight machine.  While FW found advantageous fights around the map, 957 repeatedly outplayed them to survive impossible scenarios, including a ridiculous escape versus three FW members allowing his teammates to take an easy Baron across the map.  Baron-empowered minions gave WE all the pushing power needed to plow into the FW base, and WE took the victory.
The great 957 Kled escape! #MSI2017 pic.twitter.com/BHfBq1Fidg

— lolesports (@lolesports) May 10, 2017
Game Three – GIGABYTE Marines vs. Team Solomid
In a rematch of the first best-of-5 during the play-in stage, GPL Champion GIGABYTE Marines looked for revenge against NA LCS Champion Team SoloMid.  TSM made it all too easy for the Marines, making mistakes early and often in the match.
TSM jungler Dennis "Svenskeren" Johnsen was punished twice for sloppy top lane ganks. while his teammates stalled the game for enough time to get Jason "WildTurtle" Tran's Twitch to scale.  After an excellent Charm by Tran "Optimus" Van Cuong caught WildTurtle in the jungle, the Marines moved on to Baron Nashor.  The Marines used the Baron-empowered minions to barrage each one of TSM's inhibitor turrets, leaving the TSM base entirely exposed.
TSM found a couple positive skirmishes in the meantime, but the damage was done.  The Marines rushed to catch an overextended TSM for four kills in the bottom lane, easily marching to the TSM nexus and starting the day 1-0.
Gigabyte Marines pick up two more kills and Baron! #MSI2017 pic.twitter.com/pJObzsaVZz

— lolesports (@lolesports) May 10, 2017
Game Four – Flash Wolves vs. G2 Esports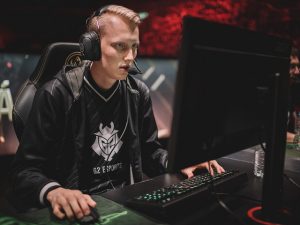 G2 Esports was also out for blood after their recent IEM Katowice loss to the Flash Wolves and both teams desperately needed a win to prevent ending the day with a morale-crushing 0-2 start.  The desire for a win lead to cautious plays on both sides, setting an MSI record for the longest start to a game without a kill.
Wolves finally managed to pick up a First Blood after 18 minutes, and the gold began pouring in.  The team found kills across all lanes and began to destroy G2's turrets.  Despite the mid-game aggression, Wolves could not find the major push they needed to end the game.
The game dragged on to a point where Wolves' gold lead no longer mattered, as Zven massacred the Wolves lineup during a team fight near Baron.  With only three members left to defend against the entire G2 roster, G2 dismantled the Wolves nexus with ease.
Game Five – SK Telecom T1 vs. GIGABYTE Marines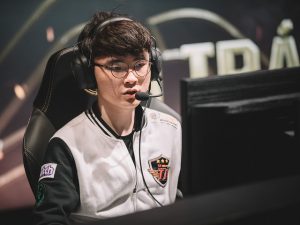 The GIGABYTE Marines had already pulled off one upset, could they surprise the world champions with another?
The Marines stayed true to form with their hyper-aggressive style and caught SKT off guard with a First Blood on top laner Heo "Huni" Seung-hoon.  SKT looked very comfortable in the chaos, and matched the Marines with an aggressive style of their own.
While each team continued to find opportunities for fights around the map, SKT rose above the chaos and looked for objectives after each skirmish.  Lee "Faker " Sang-hyeok tuned into the Marine style and used a multitude of Ekko escapes to lure unsuspecting Marines into traps around the map.
The SKT gold lead exploded to 14k by 26 minutes, and the Marines never found footing on the rift.  SKT easily destroyed the Marine nexus and ended the day 2-0.
Game Six – Team SoloMid vs. World Elite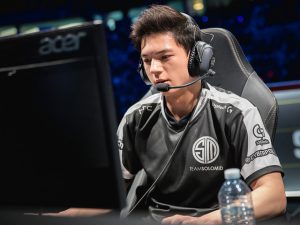 Team SoloMid has built a reputation for struggling on the international stage, and after their loss to the GIGABYTE Marines, they could not be more desperate for a win.
The team built a strategy revolving around star top laner Kevin "Hauntzer" Yarnell, getting him an early gold lead and then using him to apply pressure around the map.  Even with World Elite's early lead in the bottom lane, ADC Jin "Mystic" Sung-jun struggled to have an impact, missing several Ashe Enchanted Crystal Arrows.
World Elite nearly pulled off their patented late-game comeback after a precarious Baron attempt by TSM, but TSM secured it in the narrowest of margins.  Hauntzer used his Baron Nashor buff to tear down the WE inhibitors, and both WE and TSM would end the day 1-1.
MSI action continues Thursday, May 11th at 3:00 pm BRT as SK Telecom T1 takes on Team Solomid.
All photos courtesy of Riot Games.