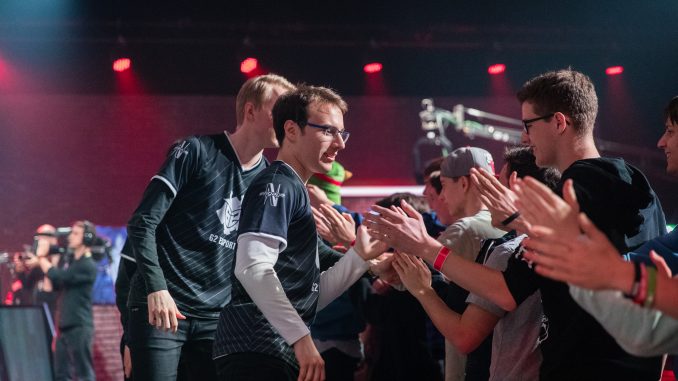 A down-and-up series for the Spanish side as they hold on for the win
by Kim Newsome, EIC
After a slow start, G2 Esports completed their comeback with a 3-1 win over Fnatic to move on to the EU LCS Spring Playoffs Finals in Hamburg, Germany.  The remarkable turnaround can be seen in the Kill-Death-Assist (K/D/A) ratio of the Riot Games Player of the Series, Luka "PerkZ" Perković, who had a 1/1/8 in Game 2 but flipped a switch in Game 3 to produce a massive 8 kills, zero deaths, and one assist.  The reigning Spring Split Champions will meet their match in the Final, as they face the winner of Sunday's set between Misfits versus Unicorns of Love.
The Match
The first game saw a dominant performance from Fnatic who overwhelmed G2 early on.  After Fnatic took down G2's bot lane, midlaner Rasmus "Caps" Winther solo'd G2's ADC Jesper "Zven" Svenningsen and Fnatic picked up a couple of kills in the mid lane.  Fnatic marched into G2's base as Game One went in their favor.
The Playoff buff continues: @FNATIC dominate @G2esports in game 1 for the 1-0 lead in the Bo5! #EULCS pic.twitter.com/bweZI5BaxY

— lolesports (@lolesports) April 15, 2017
The next game was another hot start from Fnatic, as support player Jesse "Jesiz" Le picked up the first blood.  His team followed up with a couple of quick kills in mid, and G2 suddenly found themselves struggling once again.  Enter Kim "Trick" Gang-yun to save the day, delivering a double kill on Jesiz and Martin "Rekkles" Larsson.
Fnatic began to fall apart, attempting to start the Baron but losing four players in the process, leading to a Game 2 win for G2 Esports.
.@G2esports bounce back in game 2 and tie the series against @FNATIC at 1-1! #EULCS pic.twitter.com/7Y6zBGTXjL

— lolesports (@lolesports) April 15, 2017
Despite a baron steal for Fnatic's Mads "Broxah" Brock-Pedersen, at 3-9 in the third game, Fnatic just couldn't turn things around and G2 took a 2-1 series lead.
.@G2esports take down @FNATIC in game 3 for the 2-1 lead in the series!

They are just one win away from the Grand Final in Hamburg! #EULCS pic.twitter.com/H7aIJJ7edn

— lolesports (@lolesports) April 15, 2017
In the final game, the teams did well to trade kills throughout but in the end, G2 came out on top.
SO. CLOSE. #EULCS pic.twitter.com/8gDzNy3ssm

— lolesports (@lolesports) April 15, 2017
The loss ends the postseason run for Fnatic, and G2 move on to their second Spring Split Grand Final.
— lolesports (@lolesports) April 15, 2017