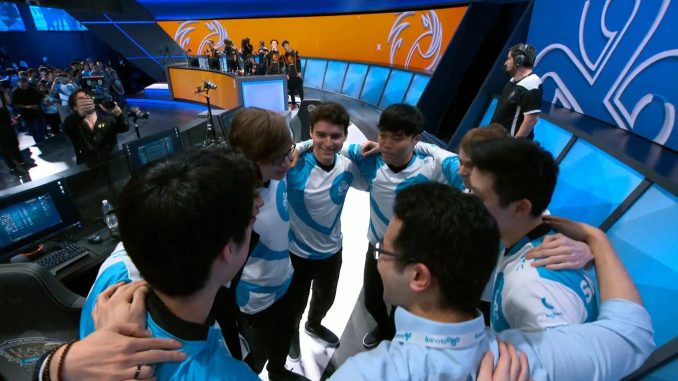 Cloud9 delivers a clean 3-0 to Phoenix1 in a dominant display
Looking like true championship contenders, Cloud9 will advance to their sixth NA LCS finals after defeating Phoenix1 on Saturday.  It was a coming-of-age story for rookie jungler Juan "Contractz" Garcia, who showed exactly why he was awarded the 2017 Spring Rookie of the Split.  With C9 gaining early leads in every game, P1 could simply not find a chink in C9's armor and was never able to generate any sort of advantage in each of their three losses.
The Match
Game 1 started slowly, each team attempting to feel the other out as the series began.  Each team traded a couple kills back-and-forth, and were dead-even in gold for most of the game.  But C9 managed to blow the game wide-open with an incredible team fight that ended with three P1 deaths and C9 taking the crucial Baron Nashor buff.  Suddenly commanding a huge lead, C9 marched down the mid lane to decimate P1's base and close out game 1.
.@Phoenix1gg try to stop the Baron, but @Cloud9 peel for three kills! #NALCS pic.twitter.com/N4qcG0QPVd

— lolesports (@lolesports) April 15, 2017
Surprisingly, C9 decided to substitute Jeon "Ray" Ji-won into the top lane for game 2, replacing Jung "Impact" Eon-yeong even after a solid performance in game 1.  However, the top-lane matchup between Ray and P1's Derek "Zig" Shao was inconsequential, as Contractz would have one of the best games of his short LCS career; he recorded an incredible 100% kill participation during game 2.  He punctuated his impressive performance with a quadra-kill on the Phoenix1 squad, and Cloud9 once again moved down the mid-lane to take the victory and a 2-0 lead in the series.
.@ContractzLoL gets a quadrakill as @Cloud9 ace @Phoenix1gg in an extended team fight and push on to win game two! #NALCS pic.twitter.com/2bmcg9Ga7t

— lolesports (@lolesports) April 15, 2017
P1, desperate for a turnaround, subbed in support William "Stunt" Chen and former C9 jungler William "Meteos" Hartman for game 3.  While Meteos had some impressive moments in the early-game, it wasn't long before Contractz once again started generating early kills for C9.  In addition, Zachary "Sneaky" Scuderi highlighted why Ashe is such a priority pick this season, landing several key Enchanted Crystal Arrows to setup fights for C9.  After catching P1 in an awkward position for a mid-lane ace, C9 marched down mid for the final time this series, sweeping P1 3-0 and advancing to the NA LCS finals.
A fight breaks out in the mid lane and @Cloud9 ace @Phoenix1gg! #NALCS pic.twitter.com/y9KKEhaSl9

— lolesports (@lolesports) April 15, 2017
Phoenix1's semifinal appearance was a pleasant surprise for a team that spent the majority of the 2016 Summer Split at the bottom of the standings.  However, this team will be left with several questions as it decides its starting roster for their 3rd-place match next week.  It's particularly surprising that P1 started support Jordan "Shady" Robison after Stunt started for each of the team's victories during their 3-0 sweep of Dignitas last week.  In addition, the controversy will continue regarding the starting jungler position, as neither Meteos nor Rami "Inori" Charagh had much of an impact for P1 this week.
Phoenix1's Rami "Inori" Charagh
Cloud9 will be watching Sunday's match between Team SoloMid and FlyQuest very closely to see who their finals opponent will be for next week.  
Regardless of who advances, next week will inspire plenty of storylines.  If Team SoloMid advances, it will be a 2016 Summer Split rematch between perennial championship contenders. If FlyQuest advances, it will be a battle of former teammates, or as viewers have joked, a "C9 vs C9" finals. It will be a dramatic finish for C9, regardless of the outcome.
P1 will play for 3rd place on Saturday, April 22nd versus the loser of Sunday's matchup between Team SoloMid and FlyQuest. Cloud9 will face the winner on Sunday, April 23rd, with an LCS championship and an entry to the Mid-Season Invitational on the line.
Photos courtesy of Riot Games