FlyQuest pulls off the reverse sweep and ends CLG's split
by Andrew Salazar, LCS Correspondent
FlyQuest soared to victory from the brink of defeat, winning three straight games to crush Counter Logic Gaming 3-2 at the NA LCS Spring Playoffs on Sunday.  With this win, FlyQuest are guaranteed a Top 4 finish as well as a trip to Vancouver for a semifinal matchup with the number one seed, Team SoloMid.
An Unexpected Result
Many analysts predicted FlyQuest would face relegation at the start of the season, and even after their impressive 5-1 start, few considered them to be a legitimate contender.  Questions surrounded their dedication to practice and scrims, and a late-season slump seemed to confirm FlyQuest was on the downtrend.  However, with this unlikely victory, the team defied all expectations and further cemented Hai Lam's status as an LCS legend, and possibly quieted critics of Galen "Moon" Holgate's notoriously unimpressive career.
FlyQuest had built a reputation for unexpected champion picks, but it was CLG who surprised them in the first two games of this series.  FlyQuest looked unprepared for Choi "HuHi" Jae-hyun's signature Aurelion Sol in game 1, and were caught off guard again in game 2 by Darshan Upadhyaha's Dr. Mundo.  With CLG taking two dominant victories to start the match, a first-round exit seemed likely for the seemingly hapless FlyQuest roster.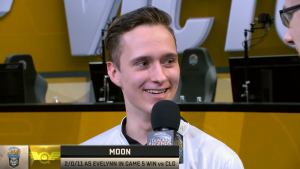 However, FlyQuest remained unphased by the early deficit, and Moon bounced back with a monstrous performance in games 3 and 4.  He relentlessly punished HuHi's Syndra to a 4-6-5 and 0-8-5 scores respectively, effectively neutralizing CLG's mid-laner.  
With the match score suddenly tied 2-2, the stage was set for yet another one of Hai's trademark reverse-sweeps.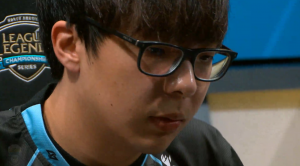 Moon continued his domination in game 5, finishing with a perfect 2-0-11 stat line and once again proving to be a nuisance to HuHi in the mid-lane.
CLG looked unsettled, and after two critical team fights at the Baron and Dragon pits, FlyQuest simply demolished the CLG roster before marching into CLG's base to claim both the nexus and the series.
This victory marks the third time Hai has engineered a reverse-sweep in an NA LCS tournament.
Hai commented on the storybook nature of FlyQuest's improbable victory in his post-game interview.
"Riot wrote the script," He joked. "So we just had to follow along."
It's an incredible disappointment for the 2016 NA LCS Spring Champion CLG, who had high hopes for a return to the Mid-Season Invitational as the only LCS team to retain its entire starting roster from the 2016 season.  They will face their offseason with lingering doubts about their ability to compete for an LCS Championship next split.
The semifinal match-ups will make for great viewing: number two seed Cloud9 will face Phoenix1 and top team Team SoloMid will take on FlyQuest.
The NA LCS Spring Playoffs will continue in Vancouver, BC on April 15th and 16th.