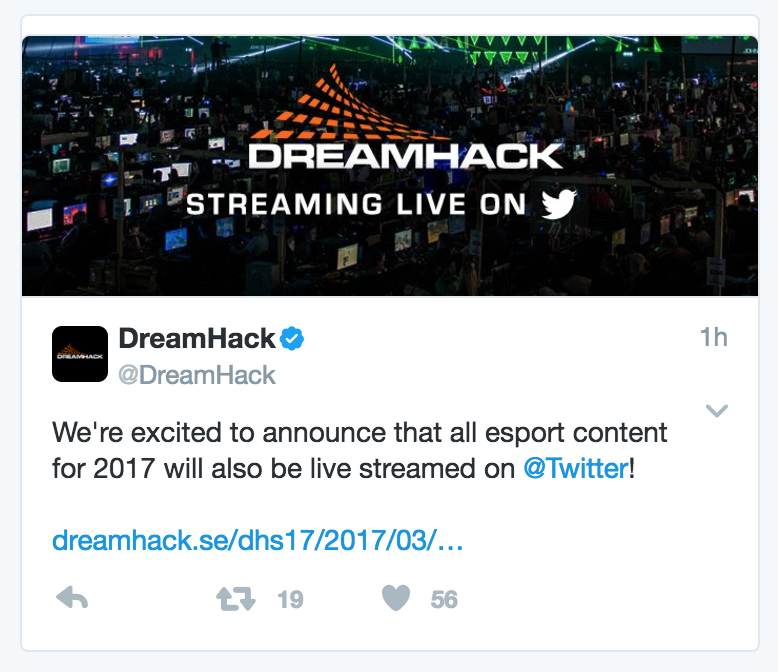 From the Oscars' red carpet to NFL stadiums, Twitter's streaming platform is taking users to events at venues around the world, and now that includes esports.  Today the company announced a partnership with tournament organizers ESL and DreamHack to broadcast esports tournaments live on Twitter.
The first broadcast will be this Saturday at ESL's Intel Extreme Masters World Championship in Katowice, Poland.  The event features League of Legends, StarCraft II, and CS:GO tournaments. According to a report from The Verge, Twitter will be offering more than 15 live streamed events in 2017, and will also feature a 30 minute weekly esports news show.
It is unclear whether today's announcement could mean Twitter has exclusive rights to future streams, but it does mean esports will be in front of a potentially enormous audience of millions this weekend.  If the streams are like the NFL streams, Twitter users will receive a message on their timeline when the stream is live, and can click through to watch the broadcast without chat and with their own Twitter timeline still available for browsing.  In other words, Twitter live streaming is an easy way to pull casual gamers in to esports without the use of chat spam and memes.
What does this move mean for Twitch?
Twitch is still the home of live streaming games, but competitors have been doing deals with tournament organizers and sponsors to move some tournaments away from the platform, with the Twitter deal being the latest shift.  In 2016, Activision announced it would primarily use MLG.tv and YouTube Gaming's streaming services when broadcasting the Call of Duty Global Pro League, as well as future Call of Duty tournaments.  Stream.Me broadcasts fighting game tournaments and smaller esports events, while Hitbox and other emerging broadcasters continue to try to find their footing in the competitive scene.  A true challenger to Twitch's hold on the esports audience still looks unlikely for now, but Twitter's live streaming feature is certainly going to make more of the non-gaming world aware of esports in the future.
Learn about various esports titles by exploring our Guide section!