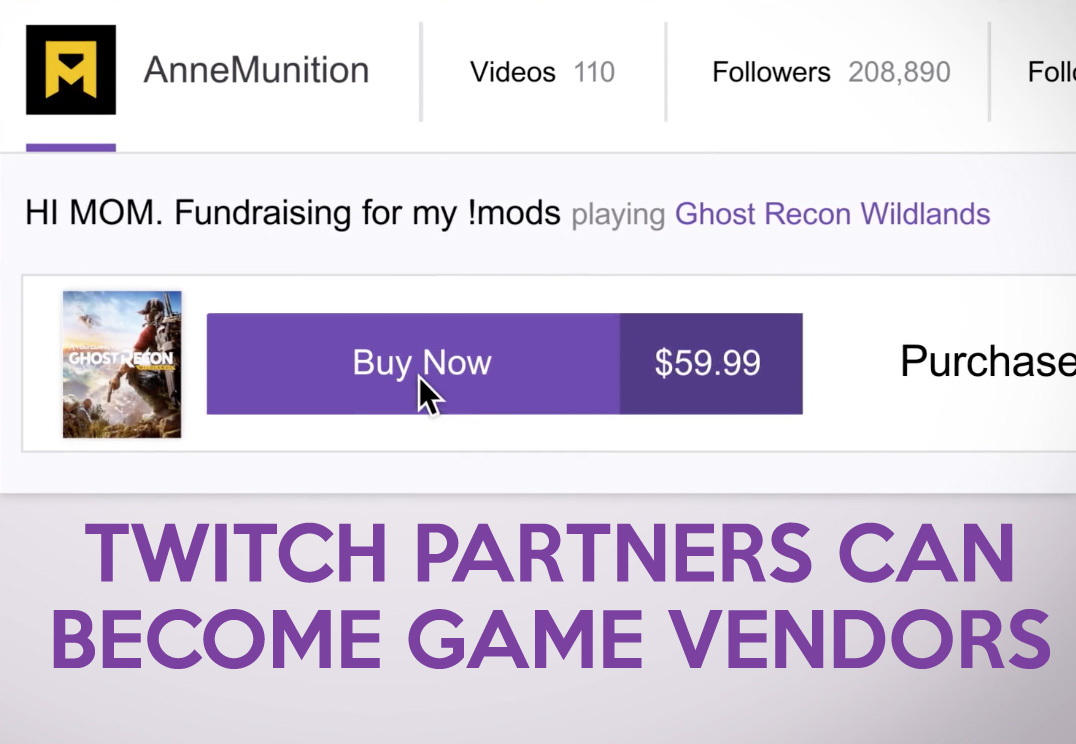 In an announcement today on their corporate blog, Twitch revealed plans to sell new games to viewers, and allow some streamers to take a cut of the profits.  Exact titles have not be released, but in an FAQ, the company states they are in talks with companies like Ubisoft, Telltale Games, Digital Extremes, Hi Rez Studios and more.
The announcement comes as Twitch has received some negative press as of late, as Brian "PoShYbRiD" Vigneault's family and community is still mourning his death during a 24 hour charity stream, and other full-time streamers have publicly expressed frustration with finding a work-life balance.  Twitch streamers have always had to find multiple ways to generate revenue, as they take home a portion of their $4.99 subscription fees, and many accept donations on-stream.
In 2016, Twitch introduced "Cheering" with "Bits", a chat action and site-wide currency that allows viewers to buy bits (or earn them by watching interactive ads on the site) and then spam the chat with cheers for their favorite streamers.  The streamer gets a cut of the real-world money generated from bits, but those numbers are generally low for streamers with very small or niche audiences.
This latest revenue-sharing effort from Twitch is a boon for small indie game streamers, who often try out new titles on their streams, prompting viewers to try the game themselves.
When a viewer buys the game from a partnered streamer's channel, the streamer gets a 5% share of the revenue from the sale.  The incentive is also high for viewers to buy from their favorite streamers because they also get a "digital Twitch Crate" containing bits, emotes, or chat badges with their purchase.
Twitch was bought by Amazon for a then eyebrow raising $970 million in 2014, and since then, the company has made a lot of expansions: the addition of the aforementioned IRL channels, cooking and creative content, as well as a category for musicians.  In late 2016, Twitch Prime was unveiled, allowing Amazon Prime subscribers to also support their favorite streamers with a free subscription each month as well as digital add-ons for various games.  This latest Twitch expansion to being a game vendor falls right in line with Amazon's established selling strategy while also keeping the service free for Twitch viewers.
While the revenue share may be welcome for established streamers, streamers without partnerships (including many esports personalities) get nothing from the deal.  A button will still be on their channel allowing viewers to buy the game, but they will not get the 5% revenue share.  Unpartnered streamers (who make up the majority of the Twitch streaming community) also do not get any of the revenue from ads run during their broadcasts.
The new revenue sharing strategy could have an effect on the content of some streamers, who may find themselves with an incentive to play non-AAA titles on their channels.  It could also encourage streamers to be a bit "kinder" about the game in order to properly "sell" it to their viewers, so they can earn their commission.
The new game vending strategy is expected to launch sometime this Spring.  The games that will be available for purchase will be playable via the Twitch launcher or other similar gaming platforms on PC.