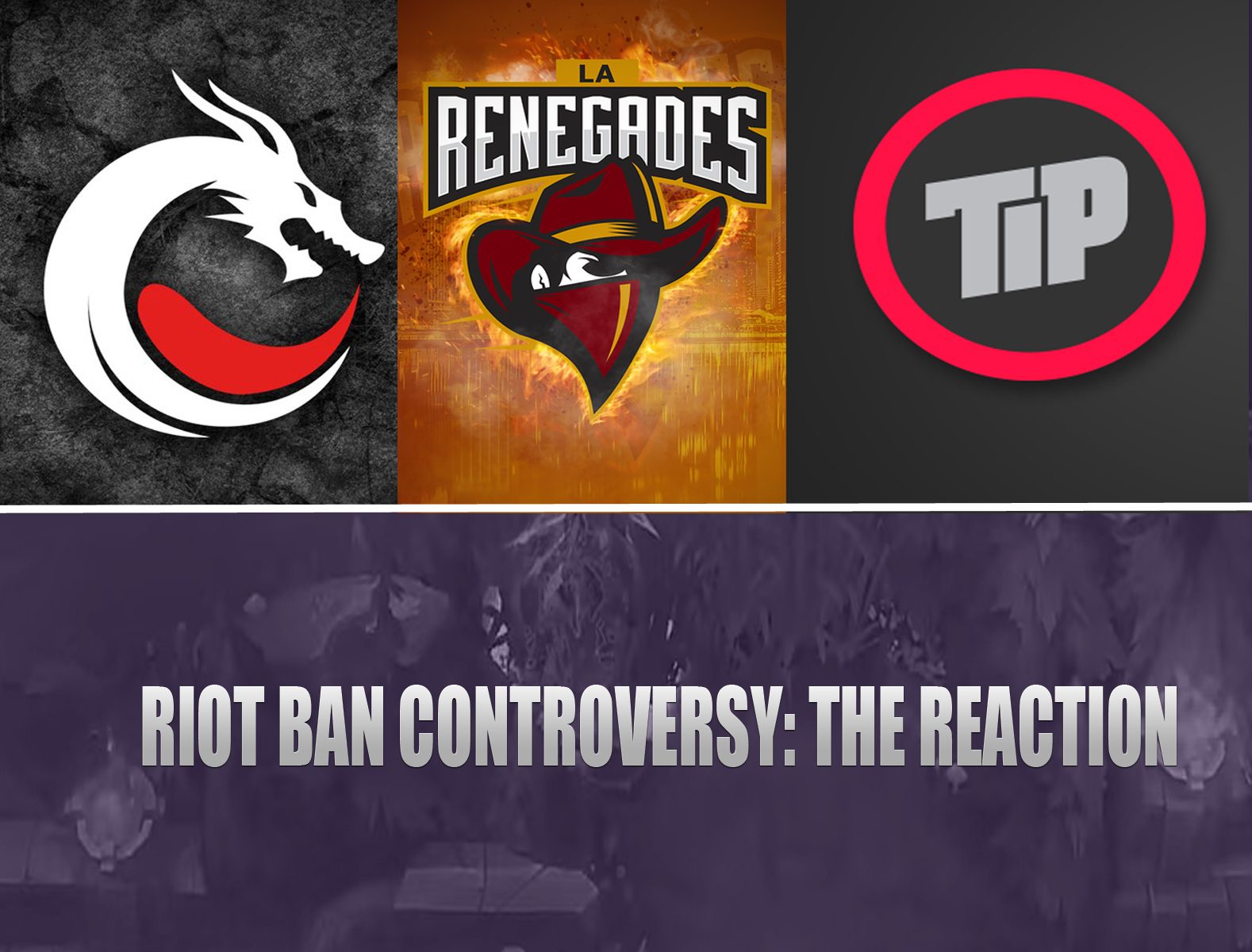 Riot Games is throwing their weight behind the notion of player protection and league integrity by banning three teams from LCS competition, and the fallout is immense.  As we reported first on Sunday, Team Dragon Knights and Renegades were handed down bans for a litany of charges, while Team Impulse was charged and banned for a separate situation.
Team Impulse' management is charged with repeatedly violating the the LCS Team Agreement rules by not paying their players on time and not providing contracts for said players.  As a result of these alleged violations, Riot Gaming has banned the organization from participating in the LCS and they are forced to sell their spot by May 18th.  Team Impulse is also facing a  $20,000 fine from the League.
Meanwhile, Team Dragon Knights and Renegades' situation is a messy one and involves the previous Renegades co-owner, Chris Badawi.  Badawi, once a part-owner of TDK and Renegades, was banned by Riot Games on June 24th, 2015 for soliciting a player under contract with Team Liquid to join his team.  At the time, he was warned by Riot Games that soliciting LCS players who are under contract was a violation of league tampering rules and could disqualify him for consideration as an owner, coach, or player. Despite the warning, Badawi was charged with tampering with Team Liquid player and he was issued a one-year ban from holding any officially recognised team position in Riot-affiliated competition. This meant that in order for TDK and RNG to compete, Chris would have had to divest his ownership stake in both teams.
According to Sunday's statement from Riot Games – Badawi is charged with doing business in the league with Renegades owner Christopher Mykles, and thus violating his league-sanctioned ban.  He also faces other charges, including providing unsafe conditions for players, resulting in a permanent ban from any Riot-sanctioned teams.
Following the allegations and bans, some of the people involved took to social media in an attempt to clear their names.  Christopher Mykles, known by the community as 'Montecristo', is a shoutcaster for the OGN region.  After receiving a one-year ban by Riot Games for his role in financial dealings with Christopher Badawi, Mykles responded on Twitter:
Needless to say, all of Riot's accusations are baseless. We made an approved trade with TDK and followed all league rules.

— MonteCristo (@MonteCristo) May 9, 2016
To my knowledge there was never any misconduct regarding player, nor have any of my players ever alerted me of any problems.

— MonteCristo (@MonteCristo) May 9, 2016
Christopher then stated he would release an official statement soon.
Regarding his position as OGN caster, 'Montecristo' said this;
Just to be clear: I'm not banned from casting. I'm just banned from team ownership and management.

— MonteCristo (@MonteCristo) May 9, 2016
Meanwhile, some Renegades players have stepped up to defend their organisation.
Alberto 'Crumbz' Rengifo, current RNG jungler and formally the jungler of Team Dignitas, responded t0 allegations that RNG and Badawi compromised player welfare and safety:
My teammates and I aren't spineless. We would not put up with even one instance of an unsafe environment.

— Alberto Rengifo (@ProphetCrumbz) May 9, 2016
Other former team members also tweeted about the abuse allegations:
During my time in NA Renegades helped me and @k0ulol to have a place to live and provided food and good place to live for free when needed.

— S04Carry (@SelfieMid) May 9, 2016
I have never been mistreated on renegades and the entire experience working with the team has been a pleasure, players and especially staff.

— BIG RF Legendary (@RF_Legendary) May 9, 2016
It will be interesting to see where 'Montecristo' and Chris Badawi will go with this in the near future. The pair have 10 days to sell their current LCS teams, but it's been suggested they may try to fight the ruling.
The problem?
There's no known system in place for them to appeal against the bans.
Bryce Blum, a lawyer who represents teams and various eSports organisations, had much to say about the current system in place regarding Riot Games and their banning procedures.  Blum is concerned the rulings are not transparent and lack 3rd party input and the right to appeal.
This ruling…. We continue to operate in a broken system. This is about way more than a single decision. https://t.co/jd8yatlqxB

— Bryce Blum (@esportslaw) May 9, 2016
Riot acts as judge, jury & executioner. They write, interpret,& enforce rules w/ no 3rd party input, transparency, or the opp to appeal.

— Bryce Blum (@esportslaw) May 9, 2016
I don't know for sure if the result is wrong. I think it is, but that's not really the point. The system itself is unjust.

— Bryce Blum (@esportslaw) May 9, 2016
While there appears to be no method in place for the teams to fight the charges, some team owners from outside the LCS have been eye-ing the now available League teams.
We're investigating the fiscal viability (& responsibility) of getting back into LCS, but relegation makes it an overly risky investment.

— Jason Lake (@JasonBWLake) May 9, 2016
The teams all have until May 18th at 11:59 PST to sell their LCS spots.