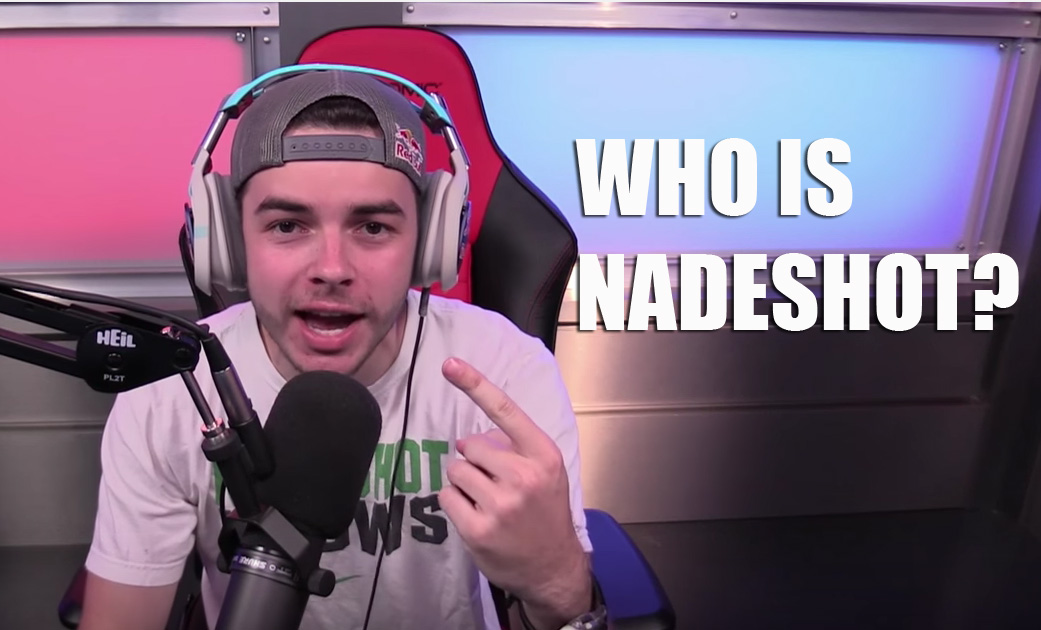 86 thousand viewers, and one thousand subscriptions in one hour.
Nadeshot has returned.
Two years after leaving the Twitch community to broadcast on MLG.tv, Matthew "Nadeshot" Haag came back to Twitch following a flurry of negotiations to end his contract with MLG.  The former professional Call of Duty player was once seen as the face of FPS eSports, and has secured lucrative sponsorships with high profile companies like Red Bull.  He graced the cover of the New York Times in 2014 where he was outed as a millionaire, and he has over 3 million YouTube subscribers, 1.5 million Twitter followers, and he's taking other social media by storm.
However, when his name was trending on Twitter in the United States today, some gaming fans (even some Call of Duty fans) asked, "Who is Nadeshot?  Why do I care that he's coming back?"
u/artacuno53 posted the following on the r/codcompetitive subreddit:
"I only started watching and paying attention to competitive CoD this year, so this is like someone who never knew Michael Jackson seeing the world cry when he died, I have no idea what the draw is.

Was he like, the wayne gretzky of the game and will never be surpassed? Was he an awesome personality? THis is so weird to me." – u/artacuno53
The responses varied from "he has a great personality" to simply "it's NADESHOT", but that doesn't really tell the story.
Nadeshot rose to fame during the Call of Duty: Black Ops II competitive cycle in 2013.  A combination of social media savvy, an everyman personality, and a relatable backstory made him something of a mascot for young fans who tuned into his streams on Twitch.  Nadeshot was also a member of the OpTic Gaming competitive team, and the members streamed from the OpTic House in Chicago for several hours a day, gaining new fans all the while.  Throughout Call of Duty: Ghosts, Nadeshot and OpTic were the underdog protagonists to compLexity's team of "villians". When the unlikely heroes managed to win the first X Games gold medal for an eSport- Nadeshot achieved superstardom in competitive CoD.
Following the creation of a dream team around OpTic Gaming captain Nadeshot (Scump, Crimsix, and Formal), the team went on to win MLG titles, before a disappointing 7th place finish at the 2015 Call of Duty Championships.  A short time later, Nadeshot announced a hiatus from competitive gaming, moved to California, and began making YouTube videos as a full time job.
"Why did he leave Twitch?"
He left the Twitch community in 2014 to sign what is believed to be a lucrative contract with MLG.tv, which touted itself as the premiere streaming platform for professional competitive gaming.
MLG's streaming platform relied heavily on ads, and the video quality of the streams was not as crisp as Twitch, so viewership lagged behind.  Most other competitive CoD players followed Nadeshot to MLG, and many received actual salaries from streaming (something they hadn't had before, due to having small audiences).  Viewership remained lower than the numbers during the Twitch days, as few casual viewers opted to cross over to MLG.tv to regularly tune in for pro gaming streams.  Eventually Nadeshot stopped streaming altogether and began lobbying to return to Twitch, while complaints came in from fans and players about the lack of growth in the CoD community.
Tonight's stream numbers from Nadeshot (peak 86k, consistent 56k) show the power one person can wield in a community.  The peak number is higher than the finals for UMG South Carolina, and higher than the $2.5 million dollar Halo World Championship on Twitch.  Nadeshot's return to Twitch is seen as a chance for growth in FPS eSports (he plays Call of Duty and CS:GO on streams), and a chance for those titles to reach League of Legends or Dota2 levels of popularity.
Promoting a whole genre of eSports is a big job, but someone's gotta do it.
Finally- we've decided to pick out some of the YouTube videos that made him so beloved by the Call of Duty esports community, and may help you to believe the hype.
You Changed My Life

The Rise of OpTic Nadeshot (Revitalize)

OpTic Gaming 2014: A Year in Review (Revitalize)

Nadeshot on "Good Morning America"

Nadeshot x Twich 2016 (Revitalize)