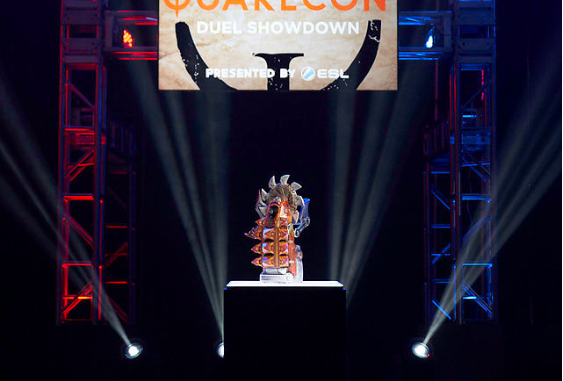 Some of the world's best esports players of The Elder Scrolls: Legends and Quake Champions came together at QuakeCon 2018 in Dallas for the first-ever The Elder Scrolls: Legends Masters Series Finals and Quake Champions QuakeCon Open. In the QuakeCon Open the 2v2 teams competed for a $175,000 prize pool, plus the top eight 2v2 teams moved on to compete solo in Duels matchups for the chance at the winner-take-all $25,000 pot.
Elder Scrolls Masters Series
To kick off the weekend, The Elder Scrolls: Legends Masters Series pitted the top Legends players from across the globe against one another in the hopes of taking the lionshare of the $50,000 prize pool. In the grand finals, Plzdonhakme took an early 2-0 lead against Karakondzhul. Karakondzhul however had a few tricks up his sleeve, taking the next two games to bring the grand finals to an exciting game 5. In the end, Plzdonhakme was able to best Karakondzhul and take home the crown in the first-ever The Elder Scrolls: Legends Masters Series Championship.
Quake Champions 2v2
In the Quake Champions 2v2 event, Team Liquid, a USA powerhouse that was hot off of a win at DreamHack Tours, came out quick and in sync, taking down top teams such as MyztroGaming UKSA and Play to Improve. In an exciting Grand Finals, Team Liquid took an early lead against Blind Trust, who despite tactful play were unable to beat the reigning champions. Team Liquid was crowned the Quake Champions winner.
Quake Champions Duels
To close out the weekend, the top solo players competed in a Duels best-of-one winner take all championship. Clawz, the reigning QuakeCon Duels champion again overpowered some of the world's top players, including Garphy in the semi-finals and Dahang of Team Liquid in the finals, to claim the Duels crown and the full $25,000 prize.
Quake Champions is Now Free-To-Play
As announced at the QuakeCon keynote this weekend, Quake Champions' free-to-play version is now available, permanently. Accessible via the Bethesda Launcher or on Steam, players can download the game to check out all of the latest updates, including a new champion – Death Knight, a new mode and much more.
Main photo courtesy of Fred.Camera.