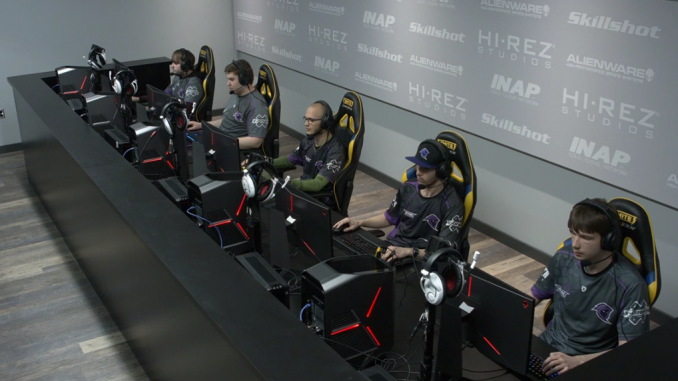 Following the end of the Spring Split, teams from the Pro Leagues around the world gathered in Atlanta, Georgia for the seasonal Masters LAN tournament. The PC players were competing for a $65,000 prize pool, with a $35,000 grand prize.
North America's SMITE World Champions eUnited were expected to challenge the European teams for the title, but eU made an early exit on Saturday after dropping matches against Team Rival and Spacestation Gaming. SSG also failed to make it to the final stages of the tournament, leaving the two European sides -Team Rival and Team Dignitas – to duke it out in a best of 7 matches final round for the grand prize.
Dignitas came in with a one match lead by virtue of being in the Winners bracket, but a last gasp push from Team Rival in the first game on Sunday tied the match up at one game apiece. An epic Fire Giant steal by Zyrhoes for Dignitas set up a big win for the team in black and yellow in Game Three.
It's the GAME OF THROWS according to @HirezHinduman as @TeamDignitas steals the Fire Giant, picks off several @TeamRivalGG members, and puts the pressure on the Phoenixes! https://t.co/m7ASBG37Ye pic.twitter.com/mAbPqQZNpc

— SmitePro (@SmitePro) May 13, 2018
Dignitas strolled to a win in Game Four, but Team Rival wouldn't let them take victory so easily, storming back with a win to make it a 3-2 series.
The dream is still alive! @TeamRivalGG wipes out 4 members of @TeamDignitas and takes the Game 4 win! Game 5 is coming in hot on https://t.co/m7ASBG37Ye pic.twitter.com/WUYVl4bmI5

— SmitePro (@SmitePro) May 13, 2018
Rival force a Game 7 with an aggressive match including Kalas with his Achilles support play to tie things up 3-3.
"Look at me. I'm the carry now." –@IfKalas, 2018 pic.twitter.com/5xH97Rm6LR

— SmitePro (@SmitePro) May 13, 2018
In the final match, Rival completed their remarkable comeback as they keep control of the game from beginning to end – the team wins the series 4-3.
1st Place: Team Rival $35,000
2nd Place: Team Dignitas $20,000
3rd Place: Spacestation Gaming $5,000
4th Place: eUnited $5,000