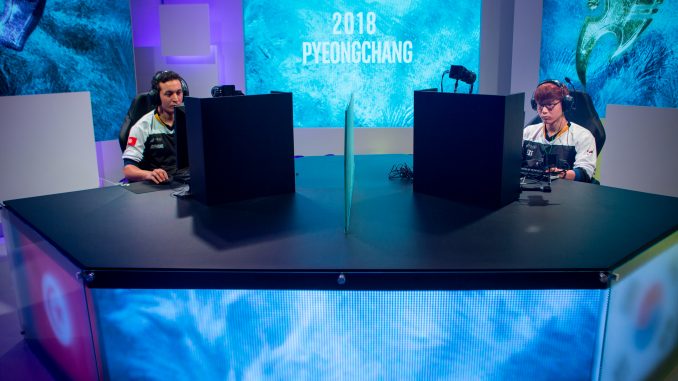 GAME partners with CWL for Arena Clash Spring 2018
GAME's Arena Clash Spring 2018 season will feature new prizes thanks to a partnership with the Call of Duty World League (CWL). Players who make it to the playoff stage in the Call of Duty WWII tournament will win a free CWL Birmingham team pass at Insomnia62 over Easter weekend. The team that wins the Grand Final will have their hotel and travel costs covered along with  £100 worth of hardware accessories and £100 worth of GAME Reward points for each winning player.
Fans can support their local teams from; Bradford, Bristol City Centre, Bristol Cribbs Causeway, Cardiff, Craigavon, Glasgow, Milton Keynes, Norwich, Nottingham, Plymouth, Portsmouth, Teesside, Tyneside or York by following the league on twitter: @BelongByGAME and on www.twitch.tv/belongbygame every Saturday 6pm
Key dates:
w/c 5th February, Friendlies Week
w/c 12th February, League Stage Round 1 Week
w/c 19th February, League Stage Round 2 Week
w/c 26th February, League Stage Round 3 Week
w/c 5th March, League Stage Round 4 Week
w/c 12th March, League Stage Round 5 Week
w/c 19th March, Friendlies/Playoffs Week
30th March – 2nd April, Grand Finals hosted at Insomnia62 at the Birmingham NEC
---
Overwatch League Stage Finals Begin
The first-ever Stage Finals of the Overwatch League will take place this Saturday, Feb. 10. The top three teams by standings at the end of regular stage play will compete for a share of the $125,000 bonus. The semi-finals and finals will be scheduled as two additional, best-of-five, matches on top of the regularly scheduled matches on Feb. 10.
Regional rivalries, upsets and overtime thrillers have kept the league's standings fluid from the beginning. The current top seven teams in the standings – each mathematically eligible for the Stage 1 Finals – is below, while OverwatchLeague.com's latest blog post breaks down the odds for each team:

Who: The top three teams by standings (regardless of division) from Stage 1. (Total map wins serves as the tiebreaker if win/loss records are tied).
What: Stage 1 winner earns a $100,000 bonus, while the runner-up receives a $25,000 bonus.
When: Saturday Feb. 10. Semi-finals (2nd place team vs. 3rd place team): 5pm PST; semi-finals winner faces 1st ranked team at approximately 7pm PST
Where to Watch: Matches take place at Blizzard Arena Los Angeles. Each game is streamed online at Twitch.tv/OverwatchLeague, MLG.com and OverwatchLeague.com, and on both the MLG and Overwatch League apps.
---
Heroes of the Dorm 2018 Regional Group Stage Broadcast Begins on Feb. 14
More than 320 collegiate Heroes of the Storm Teams are locked in for the initial phase of Heroes of the Dorm in which teams across the country will compete in regional group stages. Tune into twitch.tv/blizzheroes beginning February 14 for all of the action
---
Heroes Global Championship Week 3 Recap: HeroesHearth Stage Upset in North America  
Week 3 of the Heroes Global Championship (HGC) saw a major upset in North America courtesy of HeroesHearth Esports (2-2). With only two weeks of matches left before the Western Clash  (Katowice) and Eastern Clash (Taipei), every single win and loss will make a difference as the top four teams in each region are decided.
Team Twelve (3-2) was one of the strongest forces in North America last season, so to see them lose 1-3 against league newcomers HeroesHearth Esports is a surprise, to say the least. HeroesHearth (2-2) will have to bring their A-game next week to ward off Gale Force Esports (2-3)  and keep their spot in the top four heading to the Western Clash in March.
Zealots (1-3) in Europe were unable to convert the momentum from their huge upset win over Fnatic (4-1) last week and were defeated by Method (3-2) 3-0..
Team Dignitas (4-0) in Europe, Tempest (5-0) in Korea and Team Freedom (4-0) in North AMerica remain undefeated and are strong contenders to make it to their regional clashes in March.
All matches will be broadcast on the Heroes of the Storm Twitch Channel: https://www.twitch.tv/blizzheroes
---
StarCraft II
IEM Pyeongchang Round of 16 Concludes – Scarlett, Serral, SoS Among Those Who Advance
Eighteen of the best StarCraft II players in the world are currently competing at IEM Pyeongchang in South Korea, representing their country ahead of the Olympic Winter Games and battling it out for a share of the $150,000 prize pool.
After the first day of competition in the Round of 16, Nice, Zest, Scarlett, Serral, Kelazhur, SoS, Bly and SpeCial will advance to the Round of 8.
Matches will air live on Feb. 5-7 beginning at 2:40 a.m. GMT on the official Olympic Channel. VODS of previous matches can also be viewed on the official Olympic Channel:https://www.olympicchannel.com/en/events/e-sports-2018-intel-extreme-masters-pyeongchang—pyeongchang-kor/?sf181257491=1  
Featured photo courtesy of Blizzard Entertainment