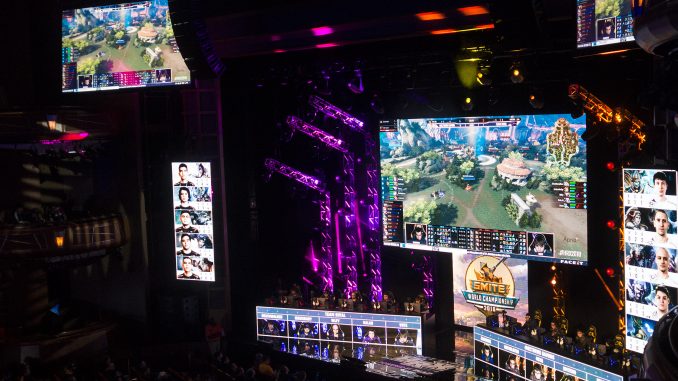 Day 4
Team Rival v NRG Esports
Game One: Vintage Vulcan and Ares picks take us right back to 2014, but Team Rival's strategies are sure to be thoroughly modern, as the number one seed is known for their clever plays and excellent teamwork.
As the game begins, Adapting gets first blood on Deathwalker but Rival answers back by picking off ManiaKK.
NRG take a free Gold Fury just before the nine minute mark as both teams move as a group around the map, avoiding one on one engagements. The gold difference is nullified as KaLaS rampages with Ares, picking up three early kills for Team Rival within the first 15 minutes.
Just before the 20 minute mark, a massive teamfight near the Fire Giant results in both sides depleting their resources but ending their run with all members alive. NRG ultimately win the battle as they take the portal demon. NRG are building up slowly and carefully taking the objectives in an attempt to snowball to a massive late game run while it appears Rival are going for as many early and mid-game kills as they can get.
Turns out, when you have Deathwalker on your team – you can get the kills you want. He jumps in, three members of NRG fall in the resulting teamfight, and then Rival storm the Fire Giant and take the buff.
30 minutes in and Rival have taken out all of NRG's towers. When the Fire Giant respawned, the team jumped in and took the buff again then proceeded to march straight down the lane and into NRG's base to take out the Titan.
Game Two: 
NRG: Sylvanus, Serquet, Ullr, Cabrakan, The Morrigan
Rival: Osiris, Athena, Poseidon, Hachiman, Nemesis
NRG will be looking to take control to bounce back from that decisive game one loss. ManiaKK got to work early, taking the first blood on Deathwalker and also did some nice farming to take a comfortable 1k gold lead in under 4 minutes. The teams trade kills as Rival rotate well to force a teamfight and pick up two kills in the process.
ManiaKK picks up a couple of kills off of what may have been a misplay by Deathwalker, but Rival answer back with a 3 man gank in mid to take out the hapless Yammyn. ManiaKK responds by going on a bit of a rampage and securing yet another double kill, then taking out Iceicebaby once again.  ManiaKK has six kills in under 12 minutes.
NRG look like they're starting to try pull away at this point, up 10-5 in kills with a 2k gold lead. But Rival tries to slow the game down, concentrating on their own objectives and avoiding unnecessary fights.  A fight at the Gold Fury goes in NRG's favor, and they continue to build their lead.
The two time champs take the Fire Giant, up 16-5 in kills at the 20 minute mark and Rival has to work hard to get back into the game at this point. NRG sweep in, take down the towers and begin work on the Rival birds, but it all ends in tears- as Rival get it together and take down three NRG players in the team fight.
Rival begin their comeback, taking down a few towers and the portal demon while they still can. The teams circle each other near the Fire Giant for about a minute and NRG finally start up the Fire Giant, but a massive team fight breaks out with the teams trading kills back and forth.  In the end, Rival end up taking the Fire Giant for free after Vote went on a rampage, picking up two kills and leading his team with 6/2/5 KDA on 30 minutes. Rival now have a small gold lead and there's still a chance for them to pick up a game win here.
Team Rival look like they're just on another level here. They storm down the map and take out the left phoenix then swarm into the base and take down the Titan. Rival lead 2 – 0.
Game Three:
NRG: Sylvanus, Serquet, Ullr, Artio, Discordia
Team Rival: Osiris, Cabrakan, Isis, Hachiman, Ares
It's a possible elimination game for NRG here, and Deathwalker gets the first blood on ManiaKK with his Cabrakan tremors. ManiaKK narrowly escapes another death as Kalas is taken out by Yammyn on the left.
At ten minutes, the teams are all tied up with 2-2 kills. NRG makes their move near the Gold Fury, taking out three Rival players and forcing them to be on the defensive at 12 minutes. Adapting is having a much better game thus far, continuing to pick the Serquet and now being rewarded for it with a 3/0/4 KDA at the 15 minute mark.
NRG have a solid lead now and it's thanks in part to iRaffer playing a solid game to lead his team into fights and force Rival to play from the back foot. NRG take the Fire Giant at 25 minutes, Deathwalker gets caught out of position and taken down, and NRG look thoroughly in control now.
The defending champions look alive and hold a 16-3 kill lead, and look ready to attempt to invade Rival's base and end the game at any moment.  NRG takes the Fire Giant then takes out the Rival phoenixes and the Titan to get back into the game.
Game Four:
NRG: Athena, Serquet, Ah Muzen Cab, Cabrakan, Isis
Rival: Sylvanus, Osiris, Discordia, Xing Tian, Rama
Both teams have a businesslike start, forcing fewer one on one battles and moving as one unit. NRG suddenly throws caution to the wind and starts a teamfight, eliminating three Rival players and jumping out to a big lead thanks to the kills and good early farming. NRG has an ability to mentally wear down a team and we may be seeing this here in the fourth game of the best of five. NRG still look confident and sharp, while Rival are playing with more caution and are avoiding fights where they can to prioritize the objectives. Adapting, who looked a bit lost during the first two games, leads the pack with three kills at 13 minutes.
Rival takes the portal demon and take down the midlane tower instead of attempting to take the Fire Giant. NRG answers back by taking down a tower on the right and then acquires the Gold Fury.
21 minutes, and a massive series of fights near the Fire Giant results in four deaths for Rival and two for NRG as Rival continues to struggle to control the team fights. Momentum is definitely with NRG here as they take another Gold Fury and are up 14-5 in kills.
Rival have no towers at 30 minutes, and they're trying desperately to wait for their late game items to come in so they can defend their base. The teams fight over the right side phoenix and NRG wins that battle, and Rival throws players at them to try to stop the bleeding. This is NRG's game to lose at this point.
NRG are all at lvl 20 and they take the Fire Giant with ease, and then charge down the left to eliminate the final Rival phoenix.  Rival valiantly try to defend their base, but NRG are just too much for them – and we are going to a Game 5.
Game 5
NRG: Ah Muzen Cab, Sylvanus, Discordia, Osiris, Fenrir
Rival: Raijin, Athena, Ullr, Da Ji, Amaterasu
It's match point now. Can NRG pull off the reverse sweep?
A teamfight to open the match, and Rival gets the first blood and kills on Adapting and Yammyn.
Rival off to a hot start; on 17 minutes, they take out the right phoenix without taking out the fire giant! They then take the gold fury. The teams fight around the Fire Giant a couple of times, with Rival using the objective as bait to pull NRG into frantic teamfights, and both teams lose two players as a result.
25 minutes in, and Rival take down the Fire Giant for the first time after dispatching three NRG players. Rival are up 13-5 in kills and have a 10k gold lead, and have taken down all of NRG's towers.
No three-peat for NRG, the top seed from the EU have pulled off the 3-2 win, and are moving on to the final.
EUnited v Obey Alliance
Meanwhile, EUnited and Obey Alliance faced off for a spot in the SMITE World Championship Finals – and it wasn't a close match.  The number one North American seed thoroughly dismantled Obey's alliance, forcing fights all over the map and racking up kills with relative ease.
It was a clash of play styles, and in this case, the North American meta reigned supreme as EUnited swept last year's runner's up 3 – 0 in the semifinal.  Solo laner Benji completely demolished the opposing side, and he was helped by his team taking early leads that snowballed quickly into overwhelming wins.
EU will face another EU team in the form of number one seed Team Rival in the final of the SMITE World Championships on Sunday.