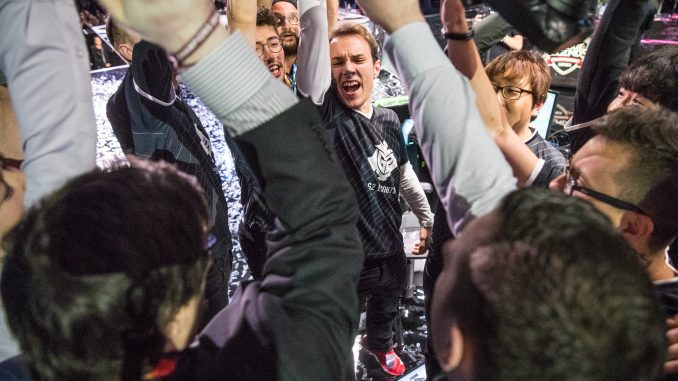 First is a familiar place for the G2 dynasty team
by Kim Newsome, EIC
Defending champions G2 Esports have yet another trophy to add to the collection as they took out a spirited Unicorns of Love team 3-1 in the EU LCS Spring Playoffs Final.  G2 have earned themselves a second consecutive appearance at the Mid-Season Invitational in Brazil thanks to a largely confident and often dominant performance from the team.  Today's win is G2's third straight LCS title since joining the league in 2016.
For their part, Unicorns of Love didn't look as cohesive as their opponents, and after the first two games, it looked as though the Final would end with a 3-0 sweep.  Resilience and risk-taking on the part of the UOL players earned them a win in Game Four, but it just wasn't enough to force a Game Five, let alone a reverse sweep.
The Match
These two teams met just once during the regular season, with G2 taking that series 2-0.  Otherwise, the teams were well matched, with each team featuring an MVP: former EU LCS MVPKim "Trick" Gang-yun for G2 and the current EU LCS MVP Kiss "Vizicsacsi" Tamás for Unicorns of Love.
Game One
G2 came out hot, taking the first blood courtesy of Jesper "Zven" Svenningsen.  The team then began building on their early lead to patiently take out objectives around the map.   On 20 minutes, Trick ganked top lane to kill UOL's Vizicsacsi, and Luka "PerkZ" Perković pulled off an incredible Ryze ult behind a tower to fend off Andrei "Xerxe" Dragomir's gank in mid lane.
SAVED! @G2Perkz makes it out alive! #EULCS pic.twitter.com/HtoAAQSujw

— lolesports (@lolesports) April 23, 2017
G2 took an uncontested Baron on 30 minutes, creating what would become an insurmountable lead.  They closed out the first game 22-7 in kills with a gold lead exceeding 20,000.  G2 top laner Ki "Expect" Dae-han thoroughly dismantled his opposition, ending the game with an 8/0/11 KDA (Kills/Deaths/Assists).
Game Two
G2 started off with a bit of a surprise in the second set: a Swain pick for PerkZ in an effort to counter UOL mid-laner Fabian "Exileh" Schubert's LeBlanc.  Unicorns of Love look more confident this time around, evening up the kills at 5-5 after 15 minutes and taking the gold lead.  Despite the promising start, the midgame belonged to G2 who forced and won team fights at key objectives thanks in part to Zven going on a serious kill streak.  Another comfortable game win for G2 in this EU LCS Final.
Zven is on rampage!!! Can't stop him now! #G2ARMY #EULCS pic.twitter.com/nycYXoOGCW

— G2 Esports (@G2esports) April 23, 2017

Game Three
Unicorns of Love needed to turn things around quickly, but the start of Game Three went in G2's favor as they picked up a couple of quick kills.  UOL still had time to turn it around, but it would take a near miracle: 30 minutes in and down 6 kills, UOL surged back into championship contention with an incredible ace.
THEY'RE NOT DONE YET: The @UnicornsOfLove ace @G2esports in game 3! #EULCS pic.twitter.com/tO8FalEY6w

— lolesports (@lolesports) April 23, 2017
The effort was more than enough for the lead, and UOL held on to force a Game Four with the 17-14 win.
U – O – L
SEND US YOUR ENERGY pic.twitter.com/UV87cRvoGb

— Unicorns Of Love (@UnicornsOfLove) April 23, 2017
Game Four
As usual, G2 took the early lead, quickly going up 8-2 in kills with a 4.5k gold lead after just 20 minutes.  Ten minutes later, it was all but over for UOL, as G2 got four kills to go up 16-8.
G2 Esports held on to close out the series 3-1 and take their third consecutive EU LCS Championship title.
Dynasty. #EULCS pic.twitter.com/GMQDJI55Jt

— lolesports (@lolesports) April 23, 2017
EU LCS Final Placements and Prizes