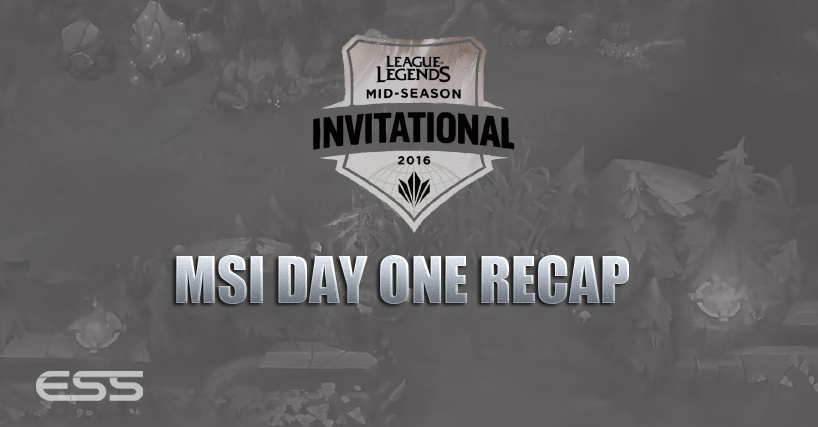 The second ever Mid-Season Invitational started today (May 4) in Shanghai, China.  All 6 teams played two games today in the group stage and that tournament structure will continue through Sunday.
The two teams with the lowest record will be eliminated and the remaining four teams will move on to the knockout stage, which runs May 13th – 15th.
---
That's it from #MSI2016 for today!
Tune in tomorrow to see who owns the Rift in Shanghai! https://t.co/IHS8iL3USg

— lolesports #MSI2016 (@lolesports) May 4, 2016
Day One Recap
Game One – Royal Never Give Up (Win) v Counter Logic Gaming (Loss) 
MSI kicked off today with Chinas representatives, RNG, facing off against North America Spring Split Champions, CLG.
It didn't take long for the crowd to get hyped up during pick and ban phase as we saw the first use of 'Aurelion Sol' in competitive play on CLG's perceived 'weak' mid-laner, 'Huhi'. The pick proved successful for CLG, with 'Huhi' managing to keep up with RNG's strong mid-laner, 'xiaohu' – who had obviously little experience facing the new champion on Summoners Rift prior to this game.
CLG and their macro-play, coinciding with their double teleport, allowed the North American team to get off to a good start, blowing summoner spells across the map through good rotational play. They did, however, find themselves giving away first blood due to lack of vision, something that was apparent throughout the game. This lack of vision allowed RNG to stack dragons and became the focal point for initiations.
Messy team fights happened here, there and everywhere throughout the game and it led to multiple aces for both teams and 2 quadra kills for CLG's rookie ADC, 'Stixxay', who was huge on Caitlyn.
Even huger though was 'Mata' on Alistar for RNG. The veteran support was able to constantly catch out targets with his headbutt – pulverise combination and did so to turn the game around as CLG pushed down top-lane with Baron enhanced minions. A fight soon after saw CLG's top-laner 'Darshan' on Maokai engage only to be instantly deleted by the Chinese champions. RNG aced CLG and pushed down mid-lane to end the game.
It was a messy and bloody Game One with plenty of miss plays. CLG will be disappointed that even after 2 barons they were not able to win this game – their team fighting decisions and poor positioning cost them a terrific start to MSI.
Game 2 – G2 Esports (Loss) v Flash Wolves (Win)
G2 Esports came into this competition high on confidence, having won the European Spring Split in their rookie season. Fans and media alike expected them to impress but will have been disappointed by their Day 1 showing.
Making their first ever appearance on the international stage, G2 got off to their stereotypical start. They were fast and full on – dictating the pace of the game and implementing their all in style from the very start. The same style that saw them placed 2nd or 3rd on many people's Power Rankings. 'Trick', the European Spring Split MVP, was the centre of all this. He carried out dive after dive and was instrumental in the early proceedings, grabbing the first 3 kills for his side. It all went downhill from there, though.
As 'Trick' was dictating the tempo, when he went in, his team followed. G2 became a shadow of the team we saw leading up to MSI, they went back to that 'raw' rookie team that had just joined the LCS. They got over confident. G2 simply had to push their gold lead they had gathered from the early game but instead went for kills. A perfect example of this is where G2 had waves middle and bottom – the team was split and 'Trick' decided to dive in between 2 towers to try and solo FW's jungler, 'Karsa'. It resulted in the death of 'Trick' and 2 others of G2, who followed to save. 
They continued in this vain throughout the game. They always controlled the gold lead and always dictated the pace and tempo of the game but in the end mispositioning and lack of engage on their team comp meant Flash Wolves simply had to wait for them to make that mistake.
It was a raw and uncontrolled performance from G2 but you have to give credit to Flash Wolves for capitalising.
Game 3 – SKT (Win) v SuperMassive (Loss)
Game 3 saw the introduction of the heavyweights SKTelecom T1 and the wild-card representative from Turkey, SuperMassive.
As expected, with SKT being favourites to win the competition and SuperMassive not expected to trouble any teams, SKT showed their quality throughout the game and steamrolled SuperMassive.
SKT were a step ahead all over the map. They capitalised on summoner spell advantages superbly, rotating all over the map quickly and efficiently. They executed tower dives to perfection and led to a massive early game gold lead.
Through this 'Blank', SKT's jungler, was able to have full control of SuperMassive's jungle and allow his team full map control. The extensive wards allowed SKT to make plays 2 or 3 steps ahead of their opponent and allowed them to pick them off with ease – especially with the advantage of having double teleport.
A highlight for SuperMassive will be 'Stomaged' stealing baron, but apart from that it was a dominant victory for SKT and a nice 'stage welcoming' game for them.
Game 4 – CLG (Win) v Flash Wolves (Loss) 
CLG were looking to avoid going 0-2 to start MSI in Game 4, whilst the Flash Wolves were coming off an impressive victory over European Champions, G2.
CLG, as has now become a trademark for them, made an impressive start to the game. A first-blood for ADC 'Stixxay', who was huge throughout the day on Caitlyn, allowed CLG to dominate lane through the item discrepancy over FW's ADC, NL.
CLG, unlike in their first game against RNG, had great vision control and thus allowed them to implement their double teleport and rotation strategy more fluently. It allowed them to stack the dragons, as RNG had done to them previously and ultimately was the thing that won them the game.
A dragon steal by 'Xmithie' gave CLG the 5th dragon of the game and allowed them to push on to grab Baron. Baron, coinciding with 5th dragon, gave CLG huge tower sieging potential which they maximised to their full potential.
Game 5 – SKT (Win)  v G2 Esports (Loss)
SKT were looking to again prove their MSI dominance in Game 5 against a G2 Esports team that looked too over confident in their first game against the Flash Wolves.
'Faker', who was again allowed onto Ryze in champion select, showed his ability in this game. The greatest ever League of Legends player, as described by a majority of people, was allowed to run havoc throughout the map as his teammates rotated and continued to catch out G2 throughout the map.
Despite being a substantial gold lead down, G2 continued to play as if they was ahead. This arrogance led to more sloppy plays from the European Champions and allowed SKT to further snowball their already substantial lead.
SKT dominated throughout this game and it's scary how they made G2 look bad, if not as bad, as SuperMassive. They ended the game with 23 kills to G2's 3 and had a 20k gold lead by the 24th-minute mark. Unbelievable.
Game 6 – SuperMassive (Loss) v Royal Never Give Up (Win)
SuperMassive looked to bounce back after their demolishing at the hands of SKT, but got off to a bad start against the 1-0 RNG. SuperMassive gave up 2 kills in the first 3 minutes of play, something that they could never recover from.
RNG, who took a victory over CLG in the first game of the day, looked comfortable in victory despite some good moments from the wildcard team.
RNG will now head into tomorrow's game against the powerhouse SKT in full confidence, having started MSI 2-0.
These are the Standings after Day 1 of #MSI2016! pic.twitter.com/9vuAem2yYd

— lolesports #MSI2016 (@lolesports) May 4, 2016
---
Updated Power Rankings (Day 1)
1. SK Telecom T1 (2-0): A solid 2-0 start for the team tipped to win the MSI trophy. They never looked troubled against SuperMassive or G2.
2. Royal Never Give Up (2-0): The home side in the competition, representing China, RNG put in a hard fought display against CLG and swept aside SuperMassive. 'Mata' was the probable MVP of the day if you discount the SKT players.
3. Counter Logic Gaming (1-1): CLG should probably be upset not going into Day 2 of the competition 2-0. They played superbly against RNG but threw late. They put a solid performance in against Flash Wolves too. They should take confidence in how 'Stixxay' performed today too.
4. Flash Wolves (1-1): Flash Wolves managed to sweep aside G2 and capitalise on their mistakes – but will have wanted to have performed better against CLG.
5. G2 Esports (0-2): A disappointing display from a team that was high on confidence coming into the competition. Looked raw, uncontrolled and over-erratic in both displays. They can bounce back.
6. SuperMassive (0-2): Faced two of the hardest teams in RNG and SKT, so can't be too disheartened. Showed a lot of heart in their loss to RNG and will be hoping to push on in Day 2 against Flash Wolves and CLG.