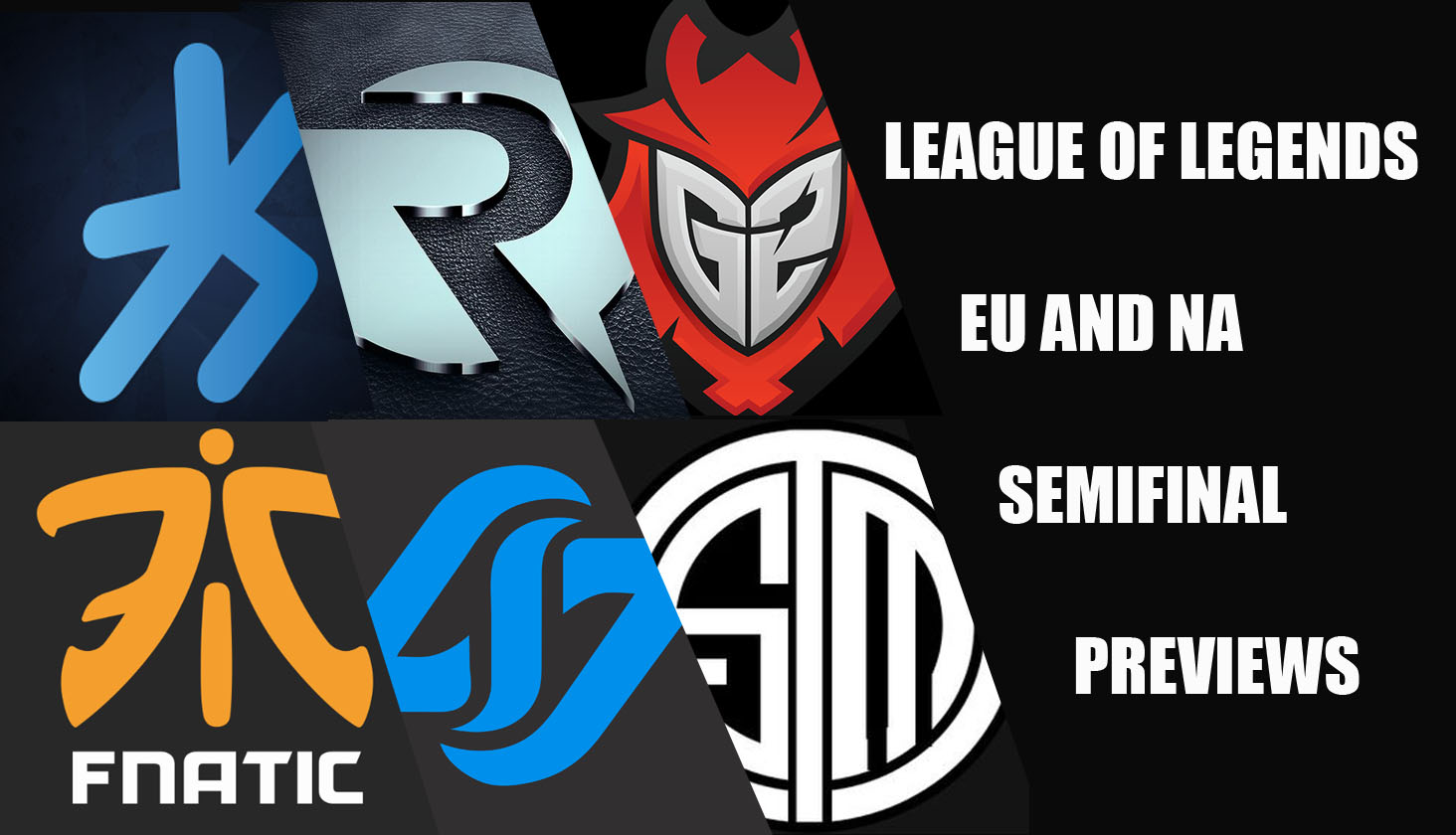 The end of the League of Legends Spring Split is fast approaching, and we are taking a look at the semifinal matches on April 9th and 10th in both the EU and NA regions. The lowest seeds in the competition face the 1st place seeds to determine who makes it to the Final on April 17th.
The teams are battling it out to earn Championship points and eventually a coveted spot at the World Championships in September.
A look at the points distribution:
Place
Spring Split
Summer Split

1

st

90

AQ

2

nd

70

90

3

rd

50

70

4

th

30

40

5

th

– 6

th

10

20

7

th

– 10

th

0

0
EU Region
H2K v Origen
When: Saturday, April 9th
Time:16:00 GMT
Stream: Riot Games
The first game of the weekend is the EU semi-finals between 2nd seed H2K and last year's 2nd placed team, Origen.
Origen, who took the 4th place seed coming into the playoff bracket with an 11-7 record, had a clean 3-0 victory against the Unicorns of Love, earning them a ticket to the semi-finals in Rotterdam.
Origen, who reached the World Championship in their first year in the LCS, have perhaps underperformed this year – but this victory showed a team that understands the current meta and can be extremely dangerous to anyone in a best of 5 match due to its personnel's diverse champion pool.
Origen's ADC 'Zven', who varied between Lucian, Jhin and Sivir during a dominant display against the Unicorns of Love, and mid lane playmaker 'PowerofEvil', who also put up impressive numbers with a 15/6/26 KDA ratio, will again have to be at their best come Saturday, as they face a H2K side that has continued to progress and impress year on year since it's promotion to the LCS back in 2014.  Mid game slip-ups that were evident but not taken advantage of by UOL, will certainly be punished by the much less forgiving H2K.
G2 Esports v Fnatic
When: Sunday, 10th April
Time: 16:00 GMT
Stream: Riot Games
The European juggernaut Fnatic overcame the high flying Team Vitality, who boasted an impressive 13-5 record during the regular split, to set up a mouth-watering semifinal with the regular seasons best placed team, G2 Esports (15-3 record).
Only Febiven and Rekkles remain from the Fnatic side that finished with an 18-0 summer split record and a semifinal appearance at the World Championship. That, coupled with more competitive teams this year in G2 Esports and H2k, has seen Fnatic limp to the playoffs with a disappointing 9-9 record.
Going into their match against Vitality, Fnatic faced the daunting prospect of not reaching an EU LCS finals for the first time. The experience and quality of Rekkles and Febiven was clear to see throughout the series as the pair dominated on Kassadin and Ezreal in game one, and Lissandra and Sivir in game two – diminishing a Vitality team that came into the series high on confidence. To extend their final appearances to 7, Fnatic will have to draw upon the momentum gained from their resolute 3-1 victory at the weekend to overcome the favourites and take their throne.
NA Region
CLG v Team Liquid
When: Saturday, April 9th
Time: 20:00 GMT
Stream: Riot Games
On Saturday, North America's 2nd seed CLG faces off against 4th seed Team Liquid.
Team Liquid, who ended the season with a 10-8 record, will be hoping to carry on the momentum gained from their dominant 3-0 victory over NRG in the quarter-finals.
Inconsistency has been the main problem for Team Liquid this season, but that was to be expected following a 3-man roster change to the squad after the departures of 'IWDOMINATE', 'Quas' and 'Xpecial'.  The rookies and their veterans, 'Piglet' and 'Fenix', found their feet throughout the season – and have started to look more and more like a cohesive unit week after week.
A clean 3-0 victory over NRG on Sunday was done to perfection, with little to no hiccups. Their bot lane duo – 'Matt' (Support) and 2013 World Champion 'Piglet' (ADC), are arguably the best 2v2 duo in the league and paved an easy path for domination – subduing NRG's 'Altec' (ADC) in all 3 games. The ever reliable 'FeniX' put up mammoth CS numbers in the mid lane which eased the pressure on his teammates and allowed his rookie jungler, 'Dardoch', to run havoc over NRG's jungler, 'Moon', and put in an MVP-worthy performance over the series.
A resolute CLG side stands between them and the finals, and they are certainly a team that has impressed this year. Despite losing their star player, 'Doublelift', in pre-season to rivals TSM, CLG ended the season with a 13-5 record and were the only team to defeat the number 1 seed, Immortals, in the regular season.
Immortals v Team Solomid
When: Sunday, 10th April
Time: 20:00 GMT
Stream: Riot Games
A 9-9 record was all this star-studded TSM roster could manage during the regular season, unable to reach the heights that so many had predicted before the season began.  Having picked up one of NA's best ADC's in 'Doublelift' and pairing him with the experienced 'YellowStar', who had just come off an 18-0 Summer split record and a semi final World Championship appearance as support for Fnatic, TSM were hoping for much more than a lackluster 9-9 record and the lowest ranked seed heading into the playoffs.
TSM's stars were challenged early on with some knocks from a determined Cloud9 team (12-6). TSM brushed off the Game 1 setback and used their playoff experience to bounce back and take the series 3-1. The dual threat of stars 'Bjergsen' and 'Doublelift', arguably the two best players in their roles, will need to show a similar performance if they are going to knock out playoff favourites Immortals, who only lost once during the regular season split, finishing with an impressive 17-1 record. Immortals boast a formidable squad of their own including ex-TSM ADC 'WildTurtle', and they aim to be the first team since Cloud9 to win the NA Championship in their first regular season.
Who are your picks to win this weekend?  Post in the comments below!